Cormark Weighs in on Parex Resources Inc.'s Q4 2018 Earnings (TSE:PXT)
Parex Resources Inc. (TSE:PXT) – Equities researchers at Cormark dropped their Q4 2018 EPS estimates for shares of Parex Resources in a note issued to investors on Thursday. Cormark analyst G. Ursu now expects that the company will post earnings of $0.48 per share for the quarter, down from their previous forecast of $0.63. Cormark also issued estimates for Parex Resources' Q3 2017 earnings at $0.30 EPS, Q1 2018 earnings at $0.42 EPS, Q2 2018 earnings at $0.44 EPS, Q3 2018 earnings at $0.47 EPS and FY2019 earnings at $2.13 EPS.
Several other equities research analysts also recently issued reports on the stock. TD Securities lifted their price target on shares of Parex Resources from C$21.00 to C$22.00 and gave the stock a "buy" rating in a research note on Friday, May 12th. CIBC lifted their price target on shares of Parex Resources from C$18.50 to C$21.50 in a research note on Wednesday, April 26th. Seven equities research analysts have rated the stock with a buy rating and one has given a strong buy rating to the company's stock. Parex Resources presently has a consensus rating of "Buy" and an average target price of C$21.50.
COPYRIGHT VIOLATION NOTICE: This story was published by Watch List News and is the sole property of of Watch List News. If you are accessing this story on another publication, it was copied illegally and reposted in violation of US and international copyright and trademark law. The correct version of this story can be accessed at https://www.watchlistnews.com/cormark-weighs-in-on-parex-resources-inc-s-q4-2018-earnings-tsepxt/1473938.html.
Parex Resources (PXT) traded up 1.69% during mid-day trading on Friday, hitting $13.85. The stock had a trading volume of 353,724 shares. Parex Resources has a one year low of $13.38 and a one year high of $18.22. The company has a 50 day moving average price of $14.90 and a 200-day moving average price of $15.98. The company has a market cap of $2.44 billion and a price-to-earnings ratio of 494.64.
About Parex Resources
Parex Resources Inc engages in the exploration, development, production, and marketing of oil and natural gas in South America. It holds interests in onshore exploration and production blocks totaling approximately 2,091,404 gross acres in Colombia. The company has proved plus probable reserves of 41.1 million barrels of oil equivalent.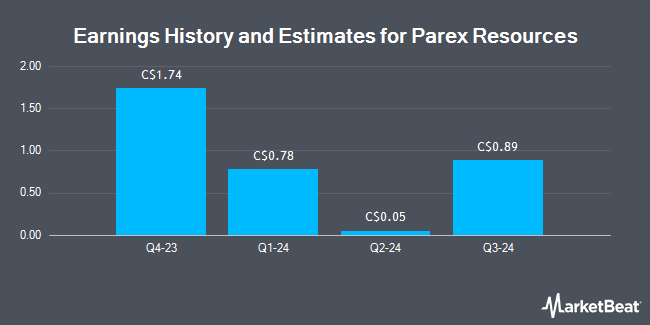 Receive News & Ratings for Parex Resources Inc. Daily - Enter your email address below to receive a concise daily summary of the latest news and analysts' ratings for Parex Resources Inc. and related companies with Analyst Ratings Network's FREE daily email newsletter.