Cormark Comments on StorageVault Canada's FY2018 Earnings (SVI)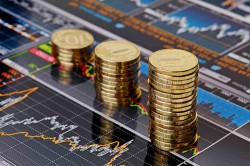 StorageVault Canada (CVE:SVI) – Research analysts at Cormark lowered their FY2018 earnings per share (EPS) estimates for shares of StorageVault Canada in a note issued to investors on Wednesday, May 16th. Cormark analyst M. Macdougall now forecasts that the company will post earnings per share of $0.10 for the year, down from their prior forecast of $0.11.
Several other research firms have also commented on SVI. National Bank Financial reaffirmed an "outperfrom under weight" rating on shares of StorageVault Canada in a report on Monday, April 30th. TD Securities set a C$3.00 target price on shares of StorageVault Canada and gave the company a "buy" rating in a report on Friday, March 9th.
StorageVault Canada opened at C$2.40 on Friday,
MarketBeat
reports. StorageVault Canada has a fifty-two week low of C$2.03 and a fifty-two week high of C$2.85.
StorageVault Canada (CVE:SVI) last announced its quarterly earnings results on Tuesday, May 15th. The company reported C($0.02) EPS for the quarter, missing the Zacks' consensus estimate of C$0.02 by C($0.04). StorageVault Canada had a negative net margin of 83.46% and a negative return on equity of 29.63%. The business had revenue of C$20.91 million for the quarter.
In other StorageVault Canada news, Director John C. Drake sold 24,300 shares of the firm's stock in a transaction on Wednesday, April 18th. The shares were sold at an average price of C$2.45, for a total value of C$59,535.00.
About StorageVault Canada
StorageVault Canada Inc engages in the owning, operating, and renting self storage and portable storage space for individual and commercial customers in British Columbia, Alberta, Saskatchewan, Manitoba, Ontario, and Quebec, Canada. It operates a network of 49 stores with a total rentable space of 2,635,032 square feet, which comprise 24,719 rental units under the Access Storage, Storage For Your Life, and Depotium Mini-Entrepots brand names. Receive News & Ratings for StorageVault Canada Daily - Enter your email address below to receive a concise daily summary of the latest news and analysts' ratings for StorageVault Canada and related companies with MarketBeat.com's FREE daily email newsletter.