Cormark Brokers Decrease Earnings Estimates for Wi-LAN Inc (QTRH)
Wi-LAN Inc (NASDAQ:QTRH) – Equities research analysts at Cormark lowered their FY2018 earnings estimates for shares of Wi-LAN in a report issued on Tuesday. Cormark analyst R. Peters now anticipates that the company will earn ($0.02) per share for the year, down from their previous estimate of $0.21.
WARNING: "Cormark Brokers Decrease Earnings Estimates for Wi-LAN Inc (QTRH)" was originally posted by Watch List News and is owned by of Watch List News. If you are accessing this piece on another publication, it was stolen and republished in violation of United States & international trademark and copyright laws. The correct version of this piece can be read at https://www.watchlistnews.com/cormark-brokers-decrease-earnings-estimates-for-wi-lan-inc-qtrh/1696023.html.
A number of other research analysts have also recently commented on the stock. Zacks Investment Research raised shares of Wi-LAN from a "hold" rating to a "buy" rating and set a $2.00 target price on the stock in a research report on Thursday, October 19th. ValuEngine raised shares of Wi-LAN from a "sell" rating to a "hold" rating in a research report on Monday, October 2nd.
Wi-LAN (NASDAQ:QTRH) traded down $0.08 during midday trading on Thursday, hitting $1.73. 393,800 shares of the stock were exchanged, compared to its average volume of 91,388. Wi-LAN has a twelve month low of $1.26 and a twelve month high of $2.20. The company has a current ratio of 2.59, a quick ratio of 2.41 and a debt-to-equity ratio of 0.09. The firm has a market capitalization of $214.71, a PE ratio of 3.77 and a beta of 0.62.
About Wi-LAN
Quarterhill Inc, formerly Wi-LAN Inc, is a Canada-based investment holding company focused on growing its business by acquiring technology companies in the Industrial Internet of Things (IIoT) across multiple verticals. The Company targets companies with a broad range of products and services that capture, analyze and interpret data, and that have financial performance, management teams, intellectual property underpinnings and opportunities to develop long-term recurring and growing revenue streams.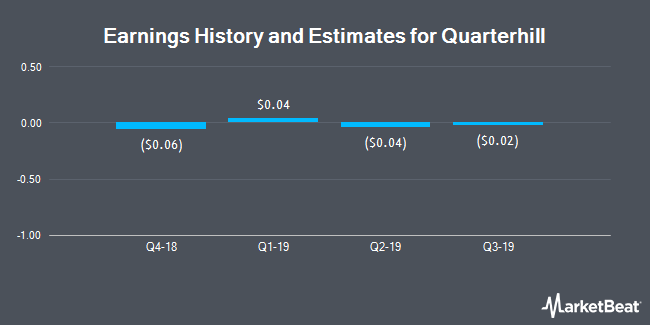 Receive News & Ratings for Wi-LAN Inc Daily - Enter your email address below to receive a concise daily summary of the latest news and analysts' ratings for Wi-LAN Inc and related companies with Analyst Ratings Network's FREE daily email newsletter.