Constellation Brands (STZ.B) Downgraded to "Hold" at ValuEngine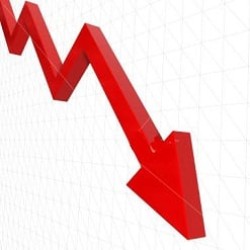 ValuEngine downgraded shares of Constellation Brands (NYSE:STZ.B) from a buy rating to a hold rating in a research note published on Monday morning.
Constellation Brands opened at $222.40 on Monday, MarketBeat.com reports. The company has a debt-to-equity ratio of 1.17, a quick ratio of 0.71 and a current ratio of 1.79. Constellation Brands has a 1-year low of $177.65 and a 1-year high of $234.00. The firm has a market capitalization of $42.88 billion, a price-to-earnings ratio of 25.72 and a beta of 0.11.
Constellation Brands (NYSE:STZ.B) last posted its quarterly earnings data on Thursday, March 29th. The company reported $1.90 earnings per share for the quarter. Constellation Brands had a return on equity of 22.28% and a net margin of 27.85%. The business had revenue of $1.77 billion for the quarter.
The company also recently declared a quarterly dividend, which will be paid on Thursday, May 24th. Stockholders of record on Thursday, May 10th will be given a dividend of $0.67 per share. This represents a $2.68 dividend on an annualized basis and a dividend yield of 1.21%. The ex-dividend date is Wednesday, May 9th. This is a boost from Constellation Brands's previous quarterly dividend of $0.47.
About Constellation Brands
Constellation Brands, Inc is an international beverage alcohol company. The Company is a producer and marketer of beer, wine and spirits with operations in the United States, Canada, Mexico, New Zealand and Italy. Its segments include Beer, Wine and Spirits, and Corporate Operations and Other. It is a multi-category supplier (beer, wine and spirits) of beverage alcohol in the United States.
To view ValuEngine's full report, visit ValuEngine's official website.
Receive News & Ratings for Constellation Brands Daily - Enter your email address below to receive a concise daily summary of the latest news and analysts' ratings for Constellation Brands and related companies with MarketBeat.com's FREE daily email newsletter.