Compass Point Begins Coverage on Acreage (OTCMKTS:ACRGF)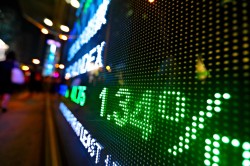 Compass Point initiated coverage on shares of Acreage (OTCMKTS:ACRGF) in a research report released on Monday morning, The Fly reports. The brokerage issued a buy rating on the stock.
Separately, Seaport Global Securities assumed coverage on shares of Acreage in a research report on Thursday, February 21st. They set a buy rating for the company.
Shares of OTCMKTS ACRGF opened at $18.16 on Monday. Acreage has a 52-week low of $11.99 and a 52-week high of $30.00.
About Acreage
Acreage Holdings, Inc engages in owning and operating cannabis licenses and assets in the U.S. with respect to the number of states with cannabis related licenses. It focuses on the cultivation, processing, and distribution operations. The company was founded by Kevin P. Murphy on July 12, 1989 and is headquartered in New York, NY.
See Also: How to start trading in the forex market?

Receive News & Ratings for Acreage Daily - Enter your email address below to receive a concise daily summary of the latest news and analysts' ratings for Acreage and related companies with MarketBeat.com's FREE daily email newsletter.