Compass Group (CPG) Receives Buy Rating from UBS Group
UBS Group reiterated their buy rating on shares of Compass Group (LON:CPG) in a research note released on Tuesday, investing.thisismoney.co.uk reports. The brokerage currently has a GBX 1,830 ($23.91) target price on the stock, up from their prior target price of GBX 1,815 ($23.72).
Other equities research analysts also recently issued reports about the company. Jefferies Financial Group raised Compass Group to a buy rating and increased their price objective for the company from GBX 1,510 ($19.73) to GBX 1,730 ($22.61) in a report on Monday, August 6th. Sanford C. Bernstein reissued an outperform rating on shares of Compass Group in a report on Monday, September 17th. Morgan Stanley decreased their price objective on Compass Group from GBX 1,580 ($20.65) to GBX 1,520 ($19.86) and set an equal weight rating for the company in a report on Wednesday, October 17th. Barclays reissued an overweight rating on shares of Compass Group in a report on Tuesday, October 9th. Finally, Liberum Capital reissued a buy rating on shares of Compass Group in a report on Tuesday, November 20th. Six research analysts have rated the stock with a hold rating and twelve have assigned a buy rating to the company. The stock currently has a consensus rating of Buy and a consensus target price of GBX 1,733 ($22.64).
Shares of CPG opened at GBX 1,668.50 ($21.80) on Tuesday. Compass Group has a 52-week low of GBX 1,396.50 ($18.25) and a 52-week high of GBX 1,698 ($22.19).
Compass Group (LON:CPG) last posted its quarterly earnings data on Tuesday, November 20th. The company reported GBX 77.60 ($1.01) earnings per share for the quarter, beating the Thomson Reuters' consensus estimate of GBX 77 ($1.01) by GBX 0.60 ($0.01).
The business also recently declared a dividend, which will be paid on Monday, February 25th. Stockholders of record on Thursday, January 17th will be paid a dividend of GBX 25.40 ($0.33) per share. This represents a dividend yield of 1.52%. The ex-dividend date is Thursday, January 17th. This is a boost from Compass Group's previous dividend of $12.30.
In other news, insider John Bryant sold 740 shares of the company's stock in a transaction that occurred on Wednesday, November 28th. The stock was sold at an average price of GBX 1,655 ($21.63), for a total transaction of £12,247 ($16,002.87). Also, insider Ireena Vittal purchased 1,616 shares of the business's stock in a transaction dated Thursday, September 27th. The shares were bought at an average price of GBX 1,689 ($22.07) per share, with a total value of £27,294.24 ($35,664.76).
About Compass Group
Compass Group PLC, through its subsidiaries, operates as a food and support services company in North America, Europe, and internationally. It serves business and industry; healthcare and seniors; education; sports and leisure; and defense, offshore, and remote sectors. The company also offers support services, such as cleaning in hospitals; reception services at corporate headquarters; managing remote camps; grounds and facilities services at schools and universities; and others.
Featured Article: Fundamental Analysis – How It Helps Investors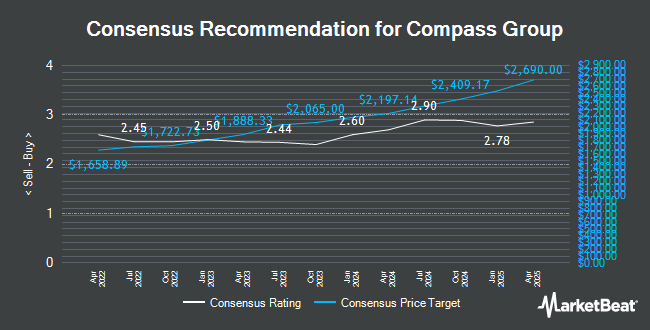 Receive News & Ratings for Compass Group Daily - Enter your email address below to receive a concise daily summary of the latest news and analysts' ratings for Compass Group and related companies with MarketBeat.com's FREE daily email newsletter.