Community Financial Corp (TCFC) Announces $0.10 Quarterly Dividend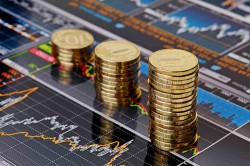 Community Financial Corp (NASDAQ:TCFC) announced a quarterly dividend on Thursday, September 27th, Wall Street Journal reports. Shareholders of record on Friday, October 5th will be paid a dividend of 0.10 per share by the financial services provider on Friday, October 19th. This represents a $0.40 dividend on an annualized basis and a yield of 1.20%. The ex-dividend date of this dividend is Thursday, October 4th.
NASDAQ TCFC traded up $0.07 on Thursday, reaching $33.40. The company had a trading volume of 1,101 shares, compared to its average volume of 9,418. The company has a debt-to-equity ratio of 0.36, a quick ratio of 0.95 and a current ratio of 0.95. The company has a market cap of $185.60 million, a P/E ratio of 14.66 and a beta of 0.24. Community Financial has a 12 month low of $32.83 and a 12 month high of $40.44.
Community Financial (NASDAQ:TCFC) last announced its quarterly earnings results on Thursday, July 26th. The financial services provider reported $0.52 earnings per share (EPS) for the quarter, missing analysts' consensus estimates of $0.63 by ($0.11). The company had revenue of $13.30 million during the quarter. Community Financial had a net margin of 9.33% and a return on equity of 8.98%.
In other Community Financial news, Director A Joseph Slater, Jr. acquired 1,000 shares of the company's stock in a transaction on Tuesday, July 31st. The stock was acquired at an average cost of $34.73 per share, with a total value of $34,730.00. The purchase was disclosed in a document filed with the SEC, which can be accessed through
this link
. Insiders acquired a total of 1,670 shares of company stock valued at $57,512 over the last three months. Corporate insiders own 10.95% of the company's stock.
About Community Financial
The Community Financial Corporation operates as the bank holding company for Community Bank of the Chesapeake that provides commercial and retail banking services to individuals and businesses. The company's deposit products include savings, money market, demand deposit, IRA, SEP, and time deposit accounts.
Featured Article: NASDAQ Stock Market Explained

Receive News & Ratings for Community Financial Daily - Enter your email address below to receive a concise daily summary of the latest news and analysts' ratings for Community Financial and related companies with MarketBeat.com's FREE daily email newsletter.