Citizens (CIZN) Downgraded to "C+" at TheStreet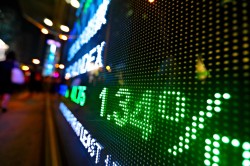 Citizens (NASDAQ:CIZN) was downgraded by analysts at TheStreet from a "b-" rating to a "c+" rating in a report released on Monday.
NASDAQ:CIZN opened at $21.77 on Monday. The company has a debt-to-equity ratio of 0.25, a quick ratio of 0.53 and a current ratio of 0.53. Citizens has a one year low of $21.18 and a one year high of $24.30. The stock has a market capitalization of $107.90 million, a P/E ratio of 16.79 and a beta of -0.32.
Citizens (NASDAQ:CIZN) last released its quarterly earnings results on Friday, October 19th. The bank reported $0.31 EPS for the quarter. Citizens had a return on equity of 7.70% and a net margin of 9.72%. The business had revenue of $8.94 million for the quarter.
In related news, Director Vincent Craig Dungan sold 12,692 shares of the business's stock in a transaction dated Friday, November 9th. The stock was sold at an average price of $21.03, for a total value of $266,912.76. Following the transaction, the director now owns 44,692 shares in the company, valued at $939,872.76. The transaction was disclosed in a legal filing with the SEC, which is available at
this hyperlink
. Insiders own 14.30% of the company's stock.
About Citizens
Citizens Holding Company operates as the bank holding company for The Citizens Bank of Philadelphia that provides a range of commercial and personal banking products and services. The company offers demand deposits, as well as savings and time deposit accounts. It also provides secured and unsecured loans; mortgage loans; installment loans; credit card loans; real estate loans, including single and multi-family housing, farm, residential and commercial construction, and commercial real estate loans; commercial, industrial, and agricultural production loans; and consumer loans, as well as issues letters of credit.
Read More: What is a Tariff?
Receive News & Ratings for Citizens Daily - Enter your email address below to receive a concise daily summary of the latest news and analysts' ratings for Citizens and related companies with MarketBeat.com's FREE daily email newsletter.