Citadel Advisors LLC Boosts Position in Aptinyx Inc (APTX)
Citadel Advisors LLC increased its stake in Aptinyx Inc (NASDAQ:APTX) by 231.1% during the third quarter, according to its most recent filing with the Securities and Exchange Commission. The firm owned 314,005 shares of the company's stock after purchasing an additional 219,168 shares during the quarter. Citadel Advisors LLC owned approximately 0.94% of Aptinyx worth $9,093,000 at the end of the most recent quarter.
Other large investors also recently bought and sold shares of the company. Strs Ohio bought a new stake in shares of Aptinyx in the 3rd quarter worth approximately $110,000. Point72 Hong Kong Ltd bought a new stake in shares of Aptinyx in the 2nd quarter worth approximately $134,000. Wells Fargo & Company MN bought a new stake in Aptinyx during the 3rd quarter valued at $185,000. American International Group Inc. bought a new stake in Aptinyx during the 3rd quarter valued at $256,000. Finally, Rhumbline Advisers bought a new stake in Aptinyx during the 3rd quarter valued at $287,000. 64.76% of the stock is currently owned by institutional investors.
Shares of APTX stock opened at $20.87 on Thursday. Aptinyx Inc has a 1 year low of $17.35 and a 1 year high of $32.25.
Aptinyx (NASDAQ:APTX) last issued its earnings results on Tuesday, November 13th. The company reported ($0.43) earnings per share (EPS) for the quarter, beating analysts' consensus estimates of ($1.01) by $0.58. The business had revenue of $0.94 million for the quarter, compared to the consensus estimate of $1.10 million. Analysts expect that Aptinyx Inc will post -2.33 earnings per share for the current year.
Separately, Cantor Fitzgerald reissued a "buy" rating and set a $40.00 target price on shares of Aptinyx in a report on Monday. Five equities research analysts have rated the stock with a buy rating, Aptinyx presently has a consensus rating of "Buy" and a consensus target price of $34.25.
ILLEGAL ACTIVITY WARNING: This piece was reported by Watch List News and is owned by of Watch List News. If you are reading this piece on another publication, it was stolen and republished in violation of US & international trademark & copyright laws. The correct version of this piece can be viewed at https://www.watchlistnews.com/citadel-advisors-llc-boosts-position-in-aptinyx-inc-aptx/2664075.html.
About Aptinyx
Aptinyx Inc, a clinical-stage biopharmaceutical company, focuses on the discovery, development, and commercialization of novel, proprietary, and synthetic small molecules for the treatment of brain and nervous system disorders. It is developing NYX-2925 that is in Phase II clinical trial for the treatment of painful diabetic peripheral neuropathy, as well as in Phase II exploratory clinical trial for fibromyalgia; and NYX-783, an NMDAr receptor that is in Phase I clinical trial for the treatment of post-traumatic stress disorder.
Read More: Average Daily Trade Volume – What You Need to Know

Want to see what other hedge funds are holding APTX? Visit HoldingsChannel.com to get the latest 13F filings and insider trades for Aptinyx Inc (NASDAQ:APTX).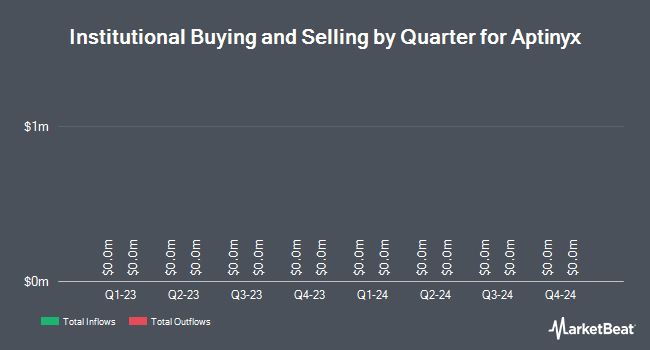 Receive News & Ratings for Aptinyx Daily - Enter your email address below to receive a concise daily summary of the latest news and analysts' ratings for Aptinyx and related companies with MarketBeat.com's FREE daily email newsletter.