CIBC Raises Pembina Pipeline Corp (PPL) Price Target to C$50.00
Pembina Pipeline Corp (TSE:PPL) (NYSE:PBA) had its target price lifted by investment analysts at CIBC from C$49.00 to C$50.00 in a research report issued on Tuesday. The brokerage currently has an "outperform" rating on the stock. CIBC's price objective suggests a potential upside of 14.47% from the company's current price.
Other equities research analysts have also recently issued reports about the company. J P Morgan Chase & Co boosted their price objective on Pembina Pipeline Corp from C$52.00 to C$53.00 in a research note on Tuesday, September 26th. TD Securities lifted their target price on shares of Pembina Pipeline Corp from C$51.00 to C$52.00 and gave the stock a "buy" rating in a research note on Thursday, August 3rd. Finally, AltaCorp Capital upgraded shares of Pembina Pipeline Corp from a "sector perform" rating to an "outperform" rating in a research note on Wednesday, July 19th. Ten equities research analysts have rated the stock with a buy rating, The stock currently has a consensus rating of "Buy" and a consensus target price of C$49.56.
Pembina Pipeline Corp (TSE:PPL) traded up 1.40% during mid-day trading on Tuesday, hitting $44.29. The company's stock had a trading volume of 862,055 shares. The firm has a 50 day moving average of $41.13 and a 200-day moving average of $42.65. The firm has a market cap of $17.85 billion and a price-to-earnings ratio of 34.60. Pembina Pipeline Corp has a 52-week low of $37.25 and a 52-week high of $44.65.
WARNING: This piece of content was first posted by Watch List News and is owned by of Watch List News. If you are reading this piece of content on another site, it was illegally stolen and reposted in violation of U.S. & international copyright & trademark legislation. The legal version of this piece of content can be viewed at https://www.watchlistnews.com/cibc-raises-pembina-pipeline-corp-ppl-price-target-to-c50-00/1605857.html.
In other news, insider Michael H. Dilger acquired 10,000 shares of the business's stock in a transaction dated Monday, August 14th. The stock was bought at an average cost of C$32.32 per share, for a total transaction of C$323,200.00.
About Pembina Pipeline Corp
Pembina Pipeline Corporation is an energy transportation and service provider. The Company operates through four segments. The Conventional Pipelines segment consists of the tariff-based operations of pipelines and related facilities to deliver crude oil, condensate and natural gas liquids (NGL) in Alberta, British Columbia, Saskatchewan, and North Dakota, United States.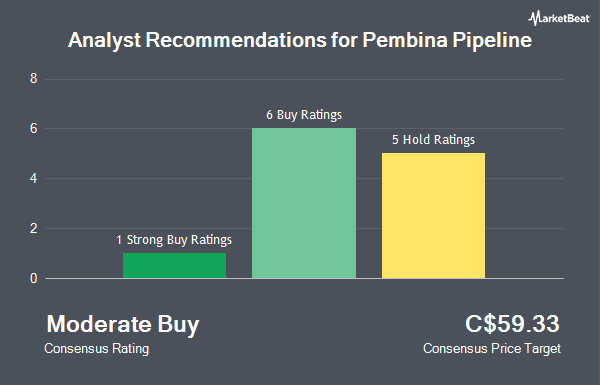 Receive News & Ratings for Pembina Pipeline Corp Daily - Enter your email address below to receive a concise daily summary of the latest news and analysts' ratings for Pembina Pipeline Corp and related companies with Analyst Ratings Network's FREE daily email newsletter.