CIBC Cuts Stantec (STN) Price Target to C$37.00

Stantec (TSE:STN) (NYSE:STN) had its price objective reduced by research analysts at CIBC from C$38.00 to C$37.00 in a report released on Tuesday. CIBC's price objective points to a potential upside of 18.32% from the company's previous close.
A number of other research analysts also recently issued reports on the company. Laurentian raised Stantec from a "hold" rating to a "buy" rating and set a C$39.00 price target on the stock in a report on Monday, October 22nd. Canaccord Genuity upped their price target on Stantec from C$37.00 to C$40.00 in a report on Monday, October 22nd. Raymond James downgraded Stantec from an "outperform" rating to a "market perform" rating and lowered their price target for the company from C$37.00 to C$35.50 in a report on Friday, November 9th. Finally, Royal Bank of Canada upped their price target on Stantec from C$36.00 to C$38.00 and gave the company a "sector perform" rating in a report on Friday, November 9th. Five research analysts have rated the stock with a hold rating and three have given a buy rating to the company. Stantec currently has a consensus rating of "Hold" and a consensus price target of C$38.06.
Stantec stock opened at C$31.27 on Tuesday. The company has a current ratio of 1.67, a quick ratio of 1.61 and a debt-to-equity ratio of 49.54. Stantec has a 12 month low of C$29.03 and a 12 month high of C$36.83.
Stantec (TSE:STN) (NYSE:STN) last announced its quarterly earnings results on Thursday, November 8th. The company reported C$0.44 earnings per share (EPS) for the quarter, missing analysts' consensus estimates of C$0.54 by C($0.10). The firm had revenue of C$901.80 million during the quarter, compared to analysts' expectations of C$920.70 million. Equities analysts predict that Stantec will post 2.219999950651 earnings per share for the current fiscal year.
In other news, Director Donald James Lowry bought 1,200 shares of the stock in a transaction on Wednesday, November 14th. The shares were bought at an average price of C$30.98 per share, with a total value of C$37,176.00. Also, Director Valentino Dimanno bought 2,106 shares of the stock in a transaction on Friday, November 16th. The stock was purchased at an average cost of C$30.96 per share, for a total transaction of C$65,201.76. Over the last ninety days, insiders have bought 9,436 shares of company stock worth $295,623.
About Stantec
Stantec Inc provides professional consulting services in the area of infrastructure and facilities for clients in the public and private sectors in Canada, the United States, and internationally. It operates through four segments: Consulting Services – Canada, Consulting Services – United States, Consulting Services – Global, and Construction Services.
Recommended Story: Outstanding Shares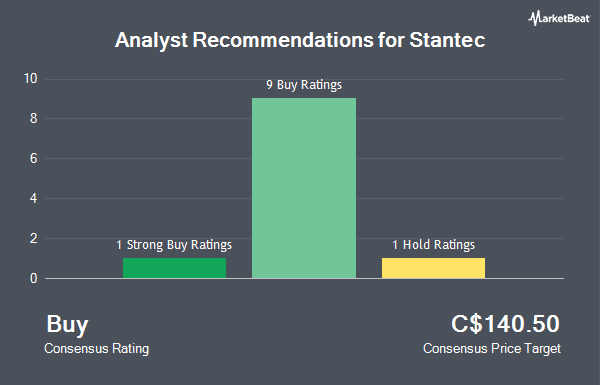 Receive News & Ratings for Stantec Daily - Enter your email address below to receive a concise daily summary of the latest news and analysts' ratings for Stantec and related companies with MarketBeat.com's FREE daily email newsletter.