Chiasma, Inc. (CHMA) to Release Quarterly Earnings on Tuesday
Chiasma, Inc. (NASDAQ:CHMA) is scheduled to be issuing its quarterly earnings data after the market closes on Tuesday, November 7th. Analysts expect the company to announce earnings of ($0.22) per share for the quarter.
Chiasma, Inc. (CHMA) opened at $2.10 on Monday.
ILLEGAL ACTIVITY WARNING: This piece of content was reported by Watch List News and is the property of of Watch List News. If you are accessing this piece of content on another site, it was illegally stolen and republished in violation of US and international copyright & trademark legislation. The legal version of this piece of content can be viewed at https://www.watchlistnews.com/chiasma-inc-chma-to-release-quarterly-earnings-on-tuesday/1681704.html.
In other Chiasma news, Director Scott Minick bought 15,000 shares of the stock in a transaction on Wednesday, September 20th. The shares were purchased at an average price of $2.38 per share, with a total value of $35,700.00. The transaction was disclosed in a document filed with the SEC, which can be accessed through this hyperlink. Company insiders own 3.80% of the company's stock.
Separately, ValuEngine raised Chiasma from a "strong sell" rating to a "sell" rating in a research note on Friday, September 1st.
About Chiasma
Chiasma, Inc is a biopharmaceutical company. The Company is engaged in developing and commercializing oral forms of therapies that are available only by injection. Using its Transient Permeability Enhancer (TPE) technology platform, the Company is developing oral therapies. The Company has completed a Phase III clinical trial of its TPE platform-based product candidate, oral octreotide capsules (trade named as MYCAPSSA) for the treatment of acromegaly, a condition that results in the body's production of excess growth hormone.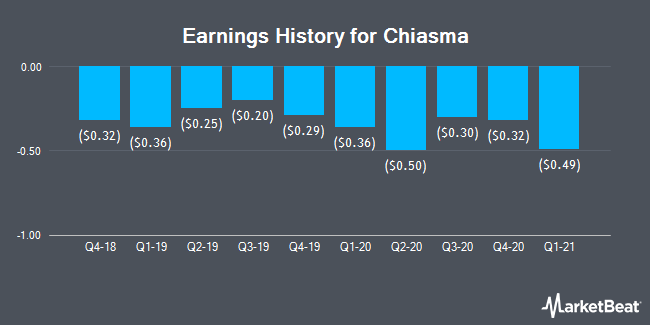 Receive News & Ratings for Chiasma Inc. Daily - Enter your email address below to receive a concise daily summary of the latest news and analysts' ratings for Chiasma Inc. and related companies with Analyst Ratings Network's FREE daily email newsletter.