Cemtrex Inc (CETX) Expected to Earn FY2018 Earnings of ($0.45) Per Share
Cemtrex Inc (NASDAQ:CETX) – Analysts at Taglich Brothers decreased their FY2018 earnings per share (EPS) estimates for shares of Cemtrex in a research report issued on Monday, September 24th. Taglich Brothers analyst J. Nobile now anticipates that the industrial products company will post earnings per share of ($0.45) for the year, down from their prior estimate of ($0.19). Taglich Brothers also issued estimates for Cemtrex's Q4 2018 earnings at ($0.23) EPS, Q1 2019 earnings at ($0.11) EPS, Q2 2019 earnings at ($0.17) EPS, Q3 2019 earnings at ($0.10) EPS, Q4 2019 earnings at ($0.15) EPS and FY2019 earnings at ($0.54) EPS.
Separately, TheStreet lowered Cemtrex from a "c" rating to a "d" rating in a research report on Wednesday, September 12th.
NASDAQ CETX
opened at $1.47 on Thursday. The company has a debt-to-equity ratio of 0.25, a quick ratio of 1.67 and a current ratio of 2.40. Cemtrex has a twelve month low of $1.30 and a twelve month high of $3.57. The company has a market cap of $20.24 million, a P/E ratio of 3.02 and a beta of -0.49.
Cemtrex (NASDAQ:CETX) last released its quarterly earnings results on Tuesday, August 14th. The industrial products company reported ($0.30) earnings per share for the quarter, missing the Thomson Reuters' consensus estimate of ($0.15) by ($0.15). Cemtrex had a negative net margin of 0.04% and a negative return on equity of 0.09%. The firm had revenue of $19.16 million for the quarter, compared to the consensus estimate of $20.85 million.
An institutional investor recently raised its position in Cemtrex stock. Renaissance Technologies LLC raised its stake in shares of Cemtrex Inc (NASDAQ:CETX) by 32.2% in the second quarter, according to its most recent Form 13F filing with the Securities and Exchange Commission. The fund owned 208,138 shares of the industrial products company's stock after buying an additional 50,700 shares during the quarter. Renaissance Technologies LLC owned about 1.80% of Cemtrex worth $435,000 at the end of the most recent quarter. Hedge funds and other institutional investors own 6.05% of the company's stock.
Cemtrex Company Profile
Cemtrex, Inc provides electronic manufacturing services of electric system assemblies, broad-based industrial services, and industrial air filtration and environmental control equipment and systems worldwide. The company operates in two segments, Electronics Manufacturing Services (EMS) and Industrial Products and Services (IPS).
Read More: What is the NASDAQ Stock Market?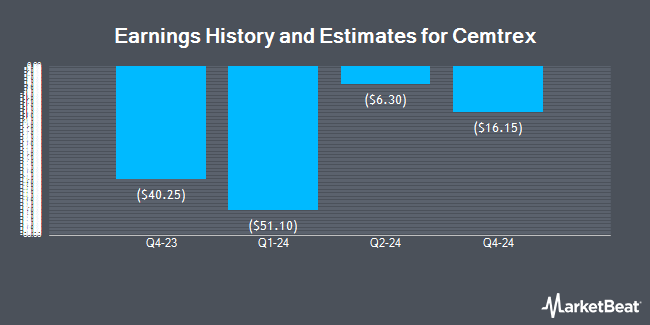 Receive News & Ratings for Cemtrex Daily - Enter your email address below to receive a concise daily summary of the latest news and analysts' ratings for Cemtrex and related companies with MarketBeat.com's FREE daily email newsletter.