Carter's (CRI) Updates Q2 Earnings Guidance
Carter's (NYSE:CRI) issued an update on its second quarter earnings guidance on Thursday morning. The company provided earnings per share guidance of $0.53 for the period, compared to the Thomson Reuters consensus earnings per share estimate of $0.92. The company issued revenue guidance of $680 million, compared to the consensus revenue estimate of $732.49 million.Carter's also updated its FY18 guidance to $6.46 EPS.
Shares of CRI traded up $1.66 during mid-day trading on Thursday, hitting $106.57. The stock had a trading volume of 2,305,187 shares, compared to its average volume of 842,391. The firm has a market cap of $4,897.50, a price-to-earnings ratio of 18.50, a PEG ratio of 1.68 and a beta of 0.44. Carter's has a fifty-two week low of $79.76 and a fifty-two week high of $129.00. The company has a current ratio of 3.10, a quick ratio of 1.43 and a debt-to-equity ratio of 0.72.
Carter's (NYSE:CRI) last announced its quarterly earnings results on Wednesday, April 25th. The textile maker reported $1.09 earnings per share (EPS) for the quarter, topping the consensus estimate of $0.98 by $0.11. The business had revenue of $755.79 million for the quarter, compared to the consensus estimate of $744.23 million. Carter's had a return on equity of 35.46% and a net margin of 8.90%. The business's revenue was up 3.1% on a year-over-year basis. During the same quarter last year, the business posted $0.97 EPS. sell-side analysts predict that Carter's will post 6.58 earnings per share for the current fiscal year.
Carter's announced that its Board of Directors has initiated a stock repurchase program on Tuesday, February 27th that authorizes the company to repurchase $500.00 million in outstanding shares. This repurchase authorization authorizes the textile maker to reacquire shares of its stock through open market purchases. Shares repurchase programs are generally an indication that the company's management believes its stock is undervalued.
Several brokerages recently issued reports on CRI. Cowen set a $109.00 price target on Carter's and gave the stock a hold rating in a report on Tuesday. Zacks Investment Research downgraded Carter's from a buy rating to a hold rating in a report on Wednesday, January 10th. Wells Fargo reaffirmed a market perform rating and set a $123.00 target price (up previously from $105.00) on shares of Carter's in a research note on Thursday, January 11th. ValuEngine downgraded Carter's from a buy rating to a hold rating in a research note on Thursday, March 29th. Finally, Citigroup lifted their target price on Carter's from $132.00 to $134.00 and gave the company a buy rating in a research note on Wednesday, February 28th. One research analyst has rated the stock with a sell rating, six have issued a hold rating and nine have given a buy rating to the company's stock. The stock currently has an average rating of Buy and a consensus price target of $120.31.
In other news, insider Brian Lynch sold 26,500 shares of Carter's stock in a transaction on Monday, March 5th. The stock was sold at an average price of $116.12, for a total transaction of $3,077,180.00. The sale was disclosed in a legal filing with the SEC, which can be accessed through the SEC website. 3.30% of the stock is currently owned by company insiders.
Carter's Company Profile
Carter's, Inc, together with its subsidiaries, designs, sources, and markets branded childrenswear under the Carter's, Child of Mine, Just One You, Precious Firsts, Simple Joys, OshKosh, Skip Hop, and other brands. The company operates through three segments: U.S. Retail, U.S. Wholesale, and International.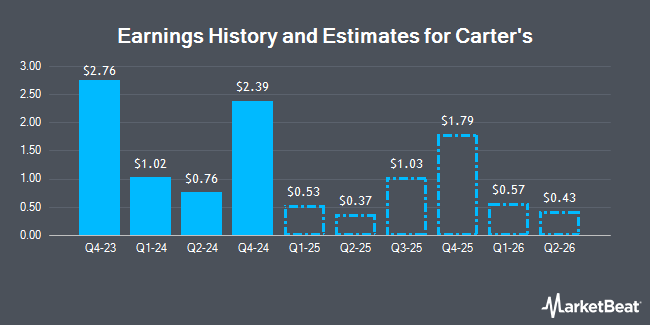 Receive News & Ratings for Carter's Daily - Enter your email address below to receive a concise daily summary of the latest news and analysts' ratings for Carter's and related companies with MarketBeat.com's FREE daily email newsletter.