Cardtronics (CATM) Issues Earnings Results, Beats Expectations By $0.18 EPS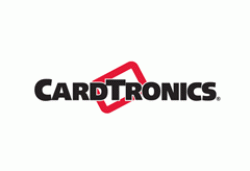 Cardtronics (NASDAQ:CATM) released its quarterly earnings results on Tuesday. The business services provider reported $0.73 earnings per share for the quarter, beating the Zacks' consensus estimate of $0.55 by $0.18, Bloomberg Earnings reports. The business had revenue of $363.00 million during the quarter, compared to analyst estimates of $340.23 million. Cardtronics had a negative net margin of 9.37% and a positive return on equity of 29.32%. The business's revenue was up 17.6% on a year-over-year basis. During the same period last year, the business earned $0.79 EPS. Cardtronics updated its FY18 guidance to $1.35-1.55 EPS.
Cardtronics (NASDAQ CATM) opened at $24.69 on Wednesday. The company has a debt-to-equity ratio of 2.64, a current ratio of 0.82 and a quick ratio of 0.78. Cardtronics has a 52-week low of $15.80 and a 52-week high of $47.45. The stock has a market cap of $1,154.83, a PE ratio of -8.26, a PEG ratio of 1.25 and a beta of 0.88.
A number of research firms recently weighed in on CATM. ValuEngine lowered shares of Cardtronics from a "buy" rating to a "hold" rating in a report on Sunday, December 31st. BidaskClub raised shares of Cardtronics from a "hold" rating to a "buy" rating in a report on Wednesday, January 31st. Wells Fargo & Co raised shares of Cardtronics from a "market perform" rating to an "outperform" rating and set a $29.00 price target for the company in a report on Wednesday, January 24th. Zacks Investment Research lowered shares of Cardtronics from a "hold" rating to a "sell" rating in a report on Tuesday, January 2nd. Finally, Bank of America reaffirmed an "underperform" rating on shares of Cardtronics in a report on Thursday, January 18th. Two investment analysts have rated the stock with a sell rating, three have issued a hold rating and three have assigned a buy rating to the stock. Cardtronics has an average rating of "Hold" and a consensus price target of $31.25.
ILLEGAL ACTIVITY WARNING: This news story was originally reported by Watch List News and is the sole property of of Watch List News. If you are reading this news story on another domain, it was stolen and republished in violation of United States and international copyright & trademark laws. The correct version of this news story can be viewed at https://www.watchlistnews.com/cardtronics-catm-announces-earnings-results/1878594.html.
About Cardtronics
Cardtronics plc, formerly Cardtronics, Inc, provides automated consumer financial services through its network of automated teller machines (ATMS) and multi-function financial services kiosks. The Company's operations consists of its North America, Europe, and Corporate & Other segments. Its ATM operations in the United States, Canada, Mexico and Puerto Rico are included in its North America segment.
Receive News & Ratings for Cardtronics Daily - Enter your email address below to receive a concise daily summary of the latest news and analysts' ratings for Cardtronics and related companies with MarketBeat.com's FREE daily email newsletter.