Canaccord Genuity Cuts New Gold (NGD) Price Target to C$5.50
New Gold (TSE:NGD) (ARCA:NGD) had its target price reduced by investment analysts at Canaccord Genuity from C$5.75 to C$5.50 in a research report issued to clients and investors on Friday. Canaccord Genuity's target price would indicate a potential upside of 41.75% from the company's current price.
NGD has been the subject of several other reports. Eight Capital reduced their target price on New Gold from C$5.50 to C$5.00 in a research note on Thursday. Desjardins reiterated a "sell" rating on shares of New Gold in a research report on Monday, December 11th. Laurentian Bank of Canada reiterated a "buy" rating and set a C$4.75 price target on shares of New Gold in a research report on Tuesday, December 19th. Laurentian set a C$4.75 price target on New Gold and gave the stock a "buy" rating in a research report on Tuesday, December 19th. Finally, Scotiabank upgraded New Gold to a "sector perform" rating and set a C$5.00 price target for the company in a research report on Friday, September 29th. Four investment analysts have rated the stock with a sell rating, three have given a hold rating and six have given a buy rating to the stock. The company presently has an average rating of "Hold" and an average price target of C$4.94.
New Gold (TSE:NGD) opened at C$3.88 on Friday. The firm has a market capitalization of $2,230.00, a P/E ratio of 32.33 and a beta of -0.28. New Gold has a 52 week low of C$3.11 and a 52 week high of C$5.79.
New Gold (TSE:NGD) (ARCA:NGD) last announced its earnings results on Wednesday, October 25th. The company reported C$0.01 earnings per share for the quarter, hitting the Thomson Reuters' consensus estimate of C$0.01. New Gold had a return on equity of 5.05% and a net margin of 20.49%.
TRADEMARK VIOLATION NOTICE: This story was published by Watch List News and is the sole property of of Watch List News. If you are viewing this story on another domain, it was illegally copied and reposted in violation of United States and international copyright and trademark laws. The original version of this story can be accessed at https://www.watchlistnews.com/canaccord-genuity-cuts-new-gold-ngd-price-target-to-c5-50/1816329.html.
New Gold Company Profile
New Gold Inc is an intermediate gold mining company. The Company is engaged in the development and operation of mineral properties. Its segments include New Afton, Mesquite, Peak Mines, Cerro San Pedro, Corporate and Other. It has operating mines in Canada, the United States, Australia and Mexico; development projects in Canada, and a stream on gold production from a development property in Chile.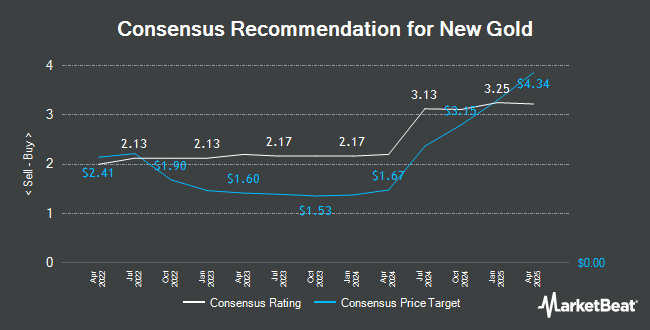 Receive News & Ratings for New Gold Daily - Enter your email address below to receive a concise daily summary of the latest news and analysts' ratings for New Gold and related companies with MarketBeat.com's FREE daily email newsletter.