Shares of Randstad (OTCMKTS:RANJY – Get Rating) have been given a consensus recommendation of "Hold" by the eight brokerages that are covering the company, Marketbeat Ratings reports. One investment analyst has rated the stock with a sell rating, four have issued a hold rating and one has given a buy rating to the company. The average 12 month target price among analysts that have issued ratings on the stock in the last year is $45.50.
Separately, Barclays lowered Randstad from an "overweight" rating to an "equal weight" rating in a report on Friday, February 17th.
Randstad Stock Down 2.2 %
OTCMKTS:RANJY opened at $29.63 on Tuesday. The firm has a market capitalization of $10.94 billion, a PE ratio of 11.53 and a beta of 1.24. The stock has a 50 day moving average of $31.65 and a 200-day moving average of $28.08. Randstad has a 52 week low of $20.52 and a 52 week high of $33.52. The company has a current ratio of 1.14, a quick ratio of 1.14 and a debt-to-equity ratio of 0.15.
Randstad Company Profile
(
Get Rating
)
Randstad NV engages in the provision of solutions in the fields of flexible work and human resources services. It operates through the following segments: North America, France, Netherlands, Italy, Germany, Belgium & Luxembourg, Iberia, Other European Countries, Rest of the World, Global Businesses, and Corporate.
Further Reading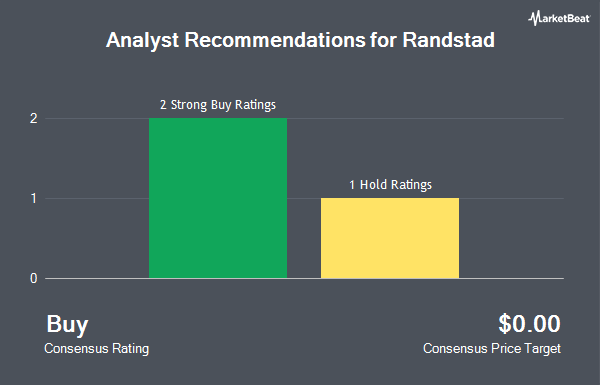 Receive News & Ratings for Randstad Daily - Enter your email address below to receive a concise daily summary of the latest news and analysts' ratings for Randstad and related companies with MarketBeat.com's FREE daily email newsletter.