Brokerages Set Metro, Inc. (MRU) Price Target at $47.70
Metro, Inc. (TSE:MRU) has earned a consensus recommendation of "Hold" from the ten analysts that are currently covering the company, Marketbeat.com reports. Three analysts have rated the stock with a hold recommendation and two have given a buy recommendation to the company. The average 12-month target price among brokers that have updated their coverage on the stock in the last year is C$47.70.
MRU has been the subject of a number of research reports. Eight Capital lowered their price target on Metro from C$50.00 to C$47.00 and set a "neutral" rating for the company in a report on Friday, September 15th. TD Securities lowered Metro from a "buy" rating to a "hold" rating and lowered their price target for the company from C$49.00 to C$44.00 in a report on Tuesday, September 5th. Desjardins boosted their price target on Metro from C$48.00 to C$50.00 in a report on Friday, September 29th. CIBC lowered their price target on Metro from C$48.00 to C$46.00 in a report on Wednesday, August 16th. Finally, BMO Capital Markets lowered their price target on Metro from C$53.00 to C$51.00 in a report on Wednesday, August 16th.
Metro (TSE MRU) traded down 0.29% on Thursday, hitting $40.61. The stock had a trading volume of 360,378 shares. The firm has a market capitalization of $9.22 billion and a price-to-earnings ratio of 16.19. Metro has a 1-year low of $38.00 and a 1-year high of $47.41. The stock's 50-day moving average is $41.16 and its 200 day moving average is $42.88.
The firm also recently disclosed a quarterly dividend, which will be paid on Tuesday, November 14th. Stockholders of record on Friday, October 27th will be issued a dividend of $0.162 per share. The ex-dividend date is Thursday, October 26th. This represents a $0.65 annualized dividend and a dividend yield of 1.60%.
TRADEMARK VIOLATION NOTICE: This story was originally reported by Watch List News and is the property of of Watch List News. If you are viewing this story on another website, it was illegally stolen and republished in violation of United States & international copyright law. The correct version of this story can be accessed at https://www.watchlistnews.com/brokerages-set-metro-inc-mru-price-target-at-47-70/1669087.html.
About Metro
Metro Inc operates as a retailer and distributor in the food and pharmaceutical sectors in Canada. It operates supermarkets, discount and convenience stores, and food stores that provide grocery products, general merchandise, non-perishable goods, dairy products, fruits and vegetables, meats, frozen foods, bakery and deli products, and pastry and charcutery products, as well as perishable products.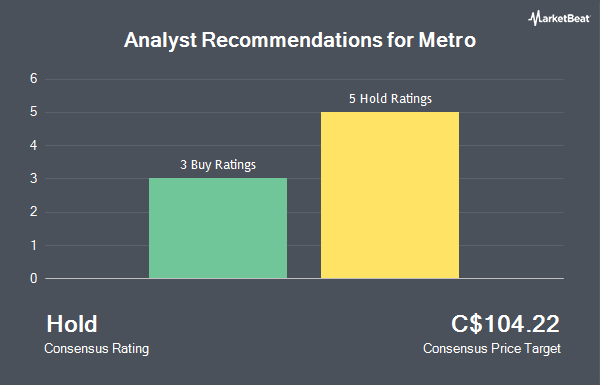 Receive News & Ratings for Metro Inc. Daily - Enter your email address below to receive a concise daily summary of the latest news and analysts' ratings for Metro Inc. and related companies with Analyst Ratings Network's FREE daily email newsletter.