Brokerages Set Leucrotta Exploration Inc (LXE) PT at $2.54
Shares of Leucrotta Exploration Inc (CVE:LXE) have received a consensus rating of "Buy" from the seven ratings firms that are currently covering the company, MarketBeat reports. One equities research analyst has rated the stock with a hold rating and five have assigned a buy rating to the company. The average 12 month target price among brokerages that have updated their coverage on the stock in the last year is C$2.54.
Several equities research analysts have weighed in on LXE shares. Eight Capital lowered their price objective on shares of Leucrotta Exploration from C$2.10 to C$1.80 in a research report on Wednesday. BMO Capital Markets set a C$2.25 price objective on shares of Leucrotta Exploration and gave the company a "market perform" rating in a research report on Wednesday, August 30th.
In other Leucrotta Exploration news, insider Gmt Capital Corp purchased 1,364,500 shares of the stock in a transaction dated Tuesday, October 24th. The stock was bought at an average price of C$1.22 per share, for a total transaction of C$1,664,690.00. In the last quarter, insiders have bought 1,397,500 shares of company stock valued at $1,710,082.
COPYRIGHT VIOLATION WARNING: This article was originally reported by Watch List News and is the sole property of of Watch List News. If you are accessing this article on another website, it was illegally copied and reposted in violation of United States and international trademark and copyright law. The legal version of this article can be read at https://www.watchlistnews.com/brokerages-set-leucrotta-exploration-inc-lxe-pt-at-2-54/1661850.html.
About Leucrotta Exploration
Leucrotta Exploration Inc is an oil and natural gas company. The Company is engaged in the acquisition, development, exploration and production of oil and natural gas reserves in northeastern British Columbia, Canada. The Company's primary areas of focus are in the Dawson-Sunrise area of northeast British Columbia.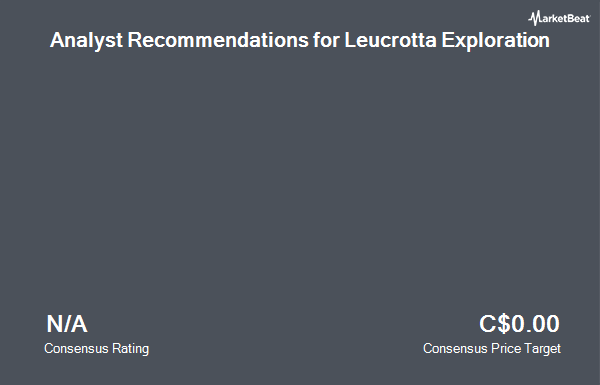 Receive News & Ratings for Leucrotta Exploration Inc Daily - Enter your email address below to receive a concise daily summary of the latest news and analysts' ratings for Leucrotta Exploration Inc and related companies with Analyst Ratings Network's FREE daily email newsletter.