Bridge Bancorp, Inc. to Issue Quarterly Dividend of $0.23 (BDGE)
Bridge Bancorp, Inc. (NASDAQ:BDGE) announced a quarterly dividend on Tuesday, January 9th, Wall Street Journal reports. Shareholders of record on Monday, January 22nd will be paid a dividend of 0.23 per share by the financial services provider on Wednesday, January 31st. This represents a $0.92 annualized dividend and a yield of 2.61%. The ex-dividend date is Friday, January 19th.
Shares of Bridge Bancorp (NASDAQ:BDGE) traded up $0.25 during mid-day trading on Tuesday, reaching $35.25. 17,975 shares of the company's stock traded hands, compared to its average volume of 43,879. The stock has a market cap of $700.69, a PE ratio of 18.75 and a beta of 0.71. Bridge Bancorp has a 1-year low of $29.80 and a 1-year high of $37.95. The company has a debt-to-equity ratio of 1.26, a quick ratio of 0.92 and a current ratio of 0.92.
Bridge Bancorp (NASDAQ:BDGE) last announced its quarterly earnings results on Wednesday, October 25th. The financial services provider reported $0.48 EPS for the quarter, missing the consensus estimate of $0.51 by ($0.03). Bridge Bancorp had a return on equity of 8.52% and a net margin of 22.62%. The company had revenue of $37.32 million during the quarter, compared to analysts' expectations of $36.50 million. research analysts forecast that Bridge Bancorp will post 1.89 EPS for the current fiscal year.
Several equities analysts recently commented on BDGE shares. Sandler O'Neill set a $41.00 price target on shares of Bridge Bancorp and gave the company a "buy" rating in a report on Wednesday, January 3rd. ValuEngine upgraded shares of Bridge Bancorp from a "hold" rating to a "buy" rating in a report on Wednesday, September 27th. Zacks Investment Research upgraded shares of Bridge Bancorp from a "sell" rating to a "hold" rating in a report on Tuesday, September 26th. Keefe, Bruyette & Woods reiterated a "hold" rating and set a $40.50 price target on shares of Bridge Bancorp in a report on Friday, December 22nd. Finally, FIG Partners reiterated a "market-perform" rating on shares of Bridge Bancorp in a report on Thursday, October 26th. One research analyst has rated the stock with a sell rating, two have given a hold rating and two have assigned a buy rating to the stock. The company currently has a consensus rating of "Hold" and a consensus price target of $40.75.
In other Bridge Bancorp news, major shareholder Basswood Capital Management, L purchased 3,862 shares of the stock in a transaction dated Friday, December 22nd. The stock was purchased at an average price of $35.61 per share, with a total value of $137,525.82. The acquisition was disclosed in a filing with the SEC, which is accessible through the SEC website. Insiders bought a total of 117,357 shares of company stock valued at $4,231,707 in the last ninety days. Corporate insiders own 5.30% of the company's stock.
ILLEGAL ACTIVITY NOTICE: This piece was published by Watch List News and is owned by of Watch List News. If you are viewing this piece on another site, it was stolen and republished in violation of US & international copyright and trademark law. The original version of this piece can be read at https://www.watchlistnews.com/bridge-bancorp-inc-to-issue-quarterly-dividend-of-0-23-bdge/1800250.html.
Bridge Bancorp Company Profile
Bridge Bancorp, Inc is a bank holding company for The Bridgehampton National Bank (the Bank). The Bank's operations include its real estate investment trust subsidiary, Bridgehampton Community, Inc (BCI), a financial title insurance subsidiary, Bridge Abstract LLC (Bridge Abstract), and an investment services subsidiary, Bridge Financial Services LLC (Bridge Financial Services).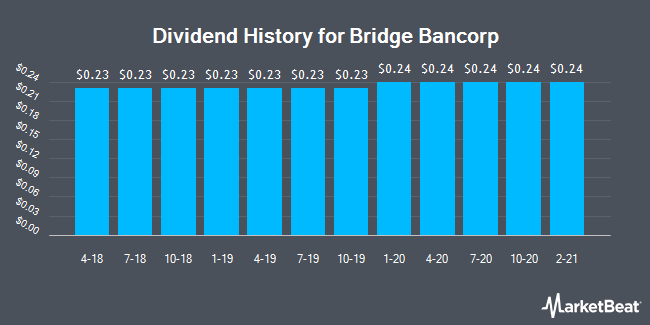 Receive News & Ratings for Bridge Bancorp Daily - Enter your email address below to receive a concise daily summary of the latest news and analysts' ratings for Bridge Bancorp and related companies with Analyst Ratings Network's FREE daily email newsletter.