Berenberg Bank Reaffirms "Sell" Rating for Greene King (GNK)
Berenberg Bank reiterated their sell rating on shares of Greene King (LON:GNK) in a research note published on Monday morning. They currently have a GBX 450 ($6.10) target price on the stock.
Several other brokerages have also recently issued reports on GNK. Investec reduced their price target on shares of Greene King from GBX 667 ($9.05) to GBX 530 ($7.19) and set a hold rating on the stock in a research report on Friday, November 17th. HSBC cut their price objective on shares of Greene King from GBX 510 ($6.92) to GBX 485 ($6.58) and set a reduce rating on the stock in a report on Wednesday, December 6th. Barclays reiterated an overweight rating and issued a GBX 635 ($8.61) target price on shares of Greene King in a research note on Wednesday, November 29th. Beaufort Securities downgraded shares of Greene King to a hold rating in a research note on Monday, September 11th. Finally, JPMorgan Chase & Co. downgraded shares of Greene King to an underweight rating and dropped their target price for the stock from GBX 650 ($8.81) to GBX 500 ($6.78) in a research note on Tuesday, January 2nd. Five research analysts have rated the stock with a sell rating, five have assigned a hold rating and four have issued a buy rating to the company. The company has a consensus rating of Hold and an average price target of GBX 571.36 ($7.75).
Greene King (LON:GNK) opened at GBX 529.40 ($7.18) on Monday. Greene King has a 52-week low of GBX 490.08 ($6.65) and a 52-week high of GBX 768 ($10.41). The stock has a market cap of $1,640.00 and a PE ratio of 945.36.
Greene King (LON:GNK) last released its quarterly earnings data on Thursday, November 30th. The company reported GBX 33 ($0.45) earnings per share (EPS) for the quarter, missing analysts' consensus estimates of GBX 34 ($0.46) by GBX (1) (($0.01)). Greene King had a net margin of 9.38% and a return on equity of 10.64%. The firm had revenue of GBX 103.14 billion during the quarter.
The company also recently disclosed a dividend, which will be paid on Friday, January 19th. Stockholders of record on Thursday, December 7th will be paid a GBX 8.80 ($0.12) dividend. The ex-dividend date is Thursday, December 7th. This represents a dividend yield of 1.69%.
COPYRIGHT VIOLATION NOTICE: This piece was originally posted by Watch List News and is the property of of Watch List News. If you are viewing this piece on another publication, it was illegally stolen and republished in violation of US and international copyright & trademark legislation. The correct version of this piece can be read at https://www.watchlistnews.com/berenberg-bank-reaffirms-sell-rating-for-greene-king-gnk/1803752.html.
About Greene King
Greene King plc is an integrated pub retailer and brewer. The Company operates approximately 3,040 managed, tenanted, leased and franchised pubs, restaurants and hotels, including brands, such as Hungry Horse, Chef & Brewer, Flaming Grill, Farmhouse Inns and its Greene King locals estate. The Company's segments include Pub Company, Pub Partners, and Brewing & Brands.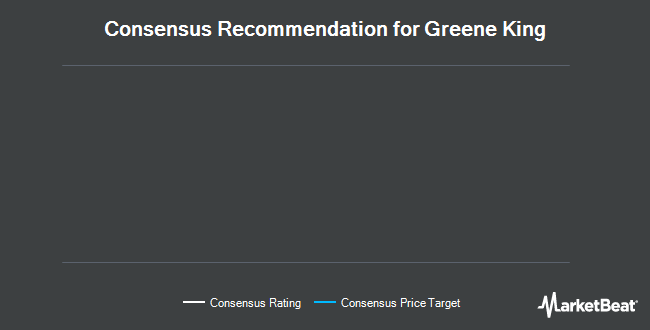 Receive News & Ratings for Greene King Daily - Enter your email address below to receive a concise daily summary of the latest news and analysts' ratings for Greene King and related companies with MarketBeat.com's FREE daily email newsletter.