Beacon Capital Management Inc. Has $166.02 Million Holdings in Vanguard Utilities ETF (VPU)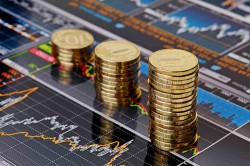 Beacon Capital Management Inc. raised its position in Vanguard Utilities ETF (NYSEARCA:VPU) by 4.7% in the fourth quarter, according to the company in its most recent Form 13F filing with the Securities and Exchange Commission. The fund owned 1,423,933 shares of the company's stock after buying an additional 63,459 shares during the quarter. Vanguard Utilities ETF makes up approximately 7.2% of Beacon Capital Management Inc.'s portfolio, making the stock its 8th biggest position. Beacon Capital Management Inc. owned approximately 0.06% of Vanguard Utilities ETF worth $166,016,000 at the end of the most recent quarter.
Shares of Vanguard Utilities ETF (NYSEARCA VPU) traded down $0.40 during midday trading on Thursday, reaching $111.77. The company's stock had a trading volume of 440,200 shares, compared to its average volume of 359,886. Vanguard Utilities ETF has a one year low of $105.72 and a one year high of $125.54. The stock has a market capitalization of $2,540.00 and a PE ratio of 6.80.
The business also recently declared a quarterly dividend, which was paid on Tuesday, December 19th. Stockholders of record on Friday, December 15th were paid a dividend of $0.9354 per share. This represents a $3.74 annualized dividend and a dividend yield of 3.35%. The ex-dividend date was Thursday, December 14th. Vanguard Utilities ETF's dividend payout ratio (DPR) is presently 22.57%.
TRADEMARK VIOLATION NOTICE: This article was originally published by Watch List News and is owned by of Watch List News. If you are viewing this article on another domain, it was copied illegally and republished in violation of international trademark & copyright legislation. The original version of this article can be accessed at https://www.watchlistnews.com/beacon-capital-management-inc-has-166-02-million-holdings-in-vanguard-utilities-etf-vpu/1803165.html.
Vanguard Utilities ETF Company Profile
Vanguard Utilities ETF (the Fund) is an exchange-traded class of shares issued by Vanguard Utilities Index Fund. The Fund tracks the performance of Morgan Stanley Capital International United States Investable Market Utilities Index, an index made up of stocks of large, medium-size and small United States companies in the utilities sector, as classified under the Global Industry Classification Standard (GICS).
Want to see what other hedge funds are holding VPU? Visit HoldingsChannel.com to get the latest 13F filings and insider trades for Vanguard Utilities ETF (NYSEARCA:VPU).
Receive News & Ratings for Vanguard Utilities ETF Daily - Enter your email address below to receive a concise daily summary of the latest news and analysts' ratings for Vanguard Utilities ETF and related companies with MarketBeat.com's FREE daily email newsletter.