Ballantyne Strong Inc (BTN) Releases Earnings Results
Ballantyne Strong Inc (NYSE:BTN) posted its quarterly earnings results on Monday. The consumer goods maker reported ($0.07) EPS for the quarter, Bloomberg Earnings reports. The company had revenue of $12.81 million during the quarter. Ballantyne Strong had a negative return on equity of 17.27% and a negative net margin of 8.95%.
Ballantyne Strong (BTN) remained flat at $$6.15 during trading hours on Wednesday. The company had a trading volume of 200 shares, compared to its average volume of 17,144. Ballantyne Strong has a 52 week low of $5.50 and a 52 week high of $8.10.
In related news, Director Global Investors Fundamental purchased 100,000 shares of the business's stock in a transaction on Thursday, August 10th. The shares were acquired at an average price of $5.87 per share, for a total transaction of $587,000.00. The transaction was disclosed in a filing with the SEC, which is available at this link. Also, CEO Kyle Cerminara purchased 4,231 shares of the business's stock in a transaction on Thursday, August 10th. The shares were bought at an average price of $6.00 per share, for a total transaction of $25,386.00. Following the purchase, the chief executive officer now directly owns 186,959 shares in the company, valued at approximately $1,121,754. The disclosure for this purchase can be found here. In the last quarter, insiders have purchased 160,892 shares of company stock valued at $977,396.
COPYRIGHT VIOLATION WARNING: This story was originally reported by Watch List News and is owned by of Watch List News. If you are viewing this story on another site, it was illegally copied and republished in violation of U.S. and international copyright & trademark legislation. The correct version of this story can be viewed at https://www.watchlistnews.com/ballantyne-strong-inc-btn-releases-earnings-results/1688031.html.
About Ballantyne Strong
Ballantyne Strong, Inc is a holding company. The Company's business activities focus on serving the cinema, retail, financial and government markets. The Company and its subsidiaries design, integrate and install technology solutions for a range of applications; develop and deliver out-of-home messaging, advertising and communications; manufacture projection screens, and provide managed services, including monitoring of networked equipment to its customers.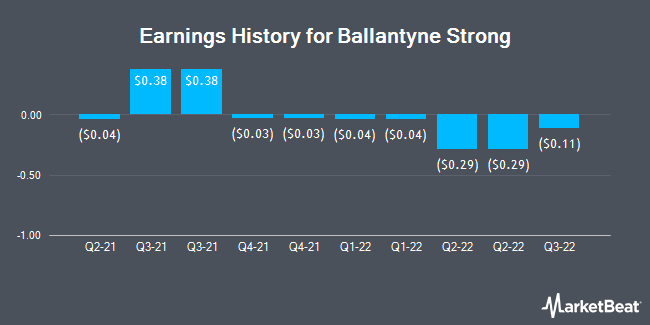 Receive News & Ratings for Ballantyne Strong Inc Daily - Enter your email address below to receive a concise daily summary of the latest news and analysts' ratings for Ballantyne Strong Inc and related companies with Analyst Ratings Network's FREE daily email newsletter.