BAE Systems plc (BA) Rating Reiterated by Barclays PLC
Barclays PLC restated their underweight rating on shares of BAE Systems plc (LON:BA) in a research report report published on Tuesday. Barclays PLC currently has a GBX 460 ($5.95) price objective on the stock.
Several other research analysts have also recently weighed in on BA. Beaufort Securities reissued a buy rating on shares of BAE Systems plc in a report on Thursday, May 11th. Deutsche Bank AG lowered their price target on shares of BAE Systems plc from GBX 665 ($8.60) to GBX 645 ($8.34) and set a buy rating on the stock in a report on Thursday, May 18th. Jefferies Group LLC increased their price target on shares of BAE Systems plc from GBX 600 ($7.76) to GBX 615 ($7.95) and gave the company a hold rating in a report on Friday, May 19th. UBS AG reissued a buy rating and issued a GBX 730 ($9.44) price target on shares of BAE Systems plc in a report on Wednesday, May 24th. Finally, Citigroup Inc. reaffirmed a buy rating and set a GBX 720 ($9.31) target price on shares of BAE Systems plc in a report on Tuesday, June 13th. One equities research analyst has rated the stock with a sell rating, three have issued a hold rating, nine have issued a buy rating and one has given a strong buy rating to the stock. The stock presently has a consensus rating of Buy and a consensus price target of GBX 655.77 ($8.48).
Shares of BAE Systems plc (BA) opened at 610.50 on Tuesday. The firm's market capitalization is GBX 19.41 billion. BAE Systems plc has a 52-week low of GBX 516.48 and a 52-week high of GBX 682.50. The company's 50-day moving average price is GBX 597.91 and its 200-day moving average price is GBX 630.24.
COPYRIGHT VIOLATION NOTICE: This piece of content was published by Watch List News and is the property of of Watch List News. If you are accessing this piece of content on another domain, it was illegally stolen and republished in violation of United States and international copyright and trademark law. The original version of this piece of content can be accessed at https://www.watchlistnews.com/bae-systems-plc-ba-rating-reiterated-by-barclays-plc/1537339.html.
The company also recently declared a dividend, which will be paid on Thursday, November 30th. Investors of record on Thursday, October 19th will be given a dividend of GBX 8.80 ($0.11) per share. The ex-dividend date is Thursday, October 19th. This represents a dividend yield of 1.51%.
In other news, insider Roger Carr purchased 33,869 shares of BAE Systems plc stock in a transaction that occurred on Thursday, August 3rd. The shares were acquired at an average price of GBX 591 ($7.64) per share, for a total transaction of £200,165.79 ($258,879.71). Insiders have purchased a total of 33,939 shares of company stock worth $20,059,550 in the last quarter.
BAE Systems plc Company Profile
BAE Systems plc is a defense, aerospace and security company. The Company operates through five segments. The Electronic Systems segment consists of the Company's United States and United Kingdom-based electronics activities. The Cyber & Intelligence segment consists of its United States-based Intelligence & Security business and United Kingdom-based Applied Intelligence business, and covers the Company's cyber, secure government, and commercial and financial security activities.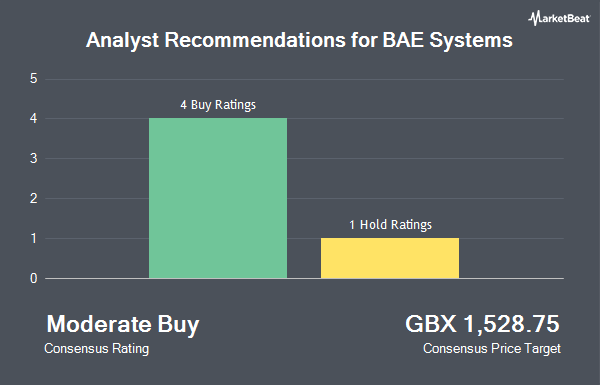 Receive News & Ratings for BAE Systems plc Daily - Enter your email address below to receive a concise daily summary of the latest news and analysts' ratings for BAE Systems plc and related companies with Analyst Ratings Network's FREE daily email newsletter.