Aviva plc (AV) Insider Keith Williams Acquires 10,000 Shares of Stock
Aviva plc (LON:AV) insider Keith Williams purchased 10,000 shares of Aviva stock in a transaction that occurred on Wednesday, December 20th. The stock was acquired at an average cost of GBX 503 ($6.77) per share, with a total value of £50,300 ($67,698.52).
Shares of Aviva plc (AV) opened at GBX 499.10 ($6.72) on Thursday. Aviva plc has a 1 year low of GBX 467.31 ($6.29) and a 1 year high of GBX 570.50 ($7.68).
A number of research analysts have commented on the company. J P Morgan Chase & Co reduced their target price on Aviva from GBX 624 ($8.40) to GBX 617 ($8.30) and set an "overweight" rating on the stock in a report on Monday, October 23rd. Morgan Stanley reaffirmed an "overweight" rating and set a GBX 627 ($8.44) target price (down previously from GBX 670 ($9.02)) on shares of Aviva in a report on Friday, November 3rd. reaffirmed a "hold" rating and set a GBX 550 ($7.40) target price on shares of Aviva in a report on Monday, September 4th. Barclays raised Aviva to an "overweight" rating and increased their target price for the stock from GBX 509 ($6.85) to GBX 567 ($7.63) in a report on Friday, October 27th. Finally, Jefferies Group reaffirmed a "buy" rating and set a GBX 606 ($8.16) target price on shares of Aviva in a report on Friday, December 8th. One investment analyst has rated the stock with a sell rating, six have assigned a hold rating and twelve have issued a buy rating to the stock. Aviva currently has an average rating of "Buy" and a consensus price target of GBX 567.88 ($7.64).
COPYRIGHT VIOLATION WARNING: This article was first reported by Watch List News and is the property of of Watch List News. If you are accessing this article on another domain, it was illegally copied and reposted in violation of U.S. & international copyright & trademark law. The legal version of this article can be viewed at https://www.watchlistnews.com/aviva-plc-av-insider-keith-williams-acquires-10000-shares-of-stock/1775339.html.
About Aviva
Aviva plc is a holding company. The Company provides customers with long-term insurance and savings, general and health insurance, and fund management products and services. Its segments include United Kingdom & Ireland; France; Poland; Italy, Spain and Other; Canada; Asia; Aviva Investors, and Other Group activities.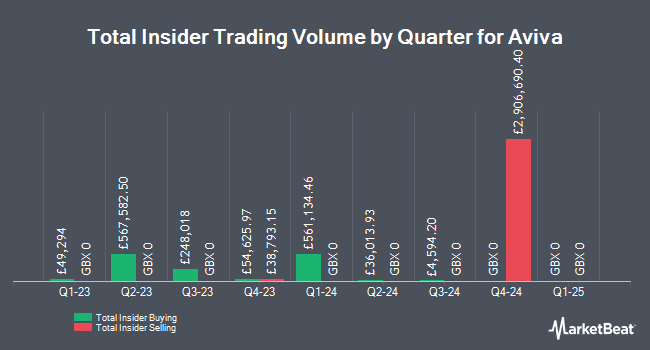 Receive News & Ratings for Aviva Daily - Enter your email address below to receive a concise daily summary of the latest news and analysts' ratings for Aviva and related companies with MarketBeat.com's FREE daily email newsletter.