AstroNova Inc (ALOT) Plans Quarterly Dividend of $0.07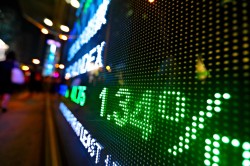 AstroNova Inc (NASDAQ:ALOT) declared a quarterly dividend on Monday, November 19th, Zacks reports. Stockholders of record on Friday, December 14th will be paid a dividend of 0.07 per share by the business services provider on Friday, December 21st. This represents a $0.28 annualized dividend and a dividend yield of 1.45%. The ex-dividend date is Thursday, December 13th.
AstroNova has a payout ratio of 59.6% meaning its dividend is sufficiently covered by earnings. Equities analysts expect AstroNova to earn $0.65 per share next year, which means the company should continue to be able to cover its $0.28 annual dividend with an expected future payout ratio of 43.1%.
Shares of NASDAQ:ALOT traded down $0.27 during midday trading on Friday, hitting $19.25. The stock had a trading volume of 4,589 shares, compared to its average volume of 6,029. The stock has a market capitalization of $135.72 million, a PE ratio of 30.56, a PEG ratio of 3.46 and a beta of 0.07. The company has a current ratio of 2.73, a quick ratio of 1.39 and a debt-to-equity ratio of 0.21. AstroNova has a fifty-two week low of $12.55 and a fifty-two week high of $23.95.
AstroNova (NASDAQ:ALOT) last issued its earnings results on Wednesday, November 21st. The business services provider reported $0.20 EPS for the quarter, beating the consensus estimate of $0.11 by $0.09. The company had revenue of $34.20 million during the quarter. AstroNova had a net margin of 3.07% and a return on equity of 7.91%. On average, research analysts predict that AstroNova will post 0.47 EPS for the current fiscal year.
Separately, Zacks Investment Research upgraded shares of AstroNova from a "hold" rating to a "buy" rating and set a $22.00 price objective for the company in a research report on Wednesday, November 28th.
In related news, Director Harold Schofield sold 4,000 shares of the company's stock in a transaction that occurred on Wednesday, September 12th. The shares were sold at an average price of $22.13, for a total transaction of $88,520.00. Following the completion of the transaction, the director now directly owns 17,149 shares in the company, valued at approximately $379,507.37. The transaction was disclosed in a filing with the SEC, which is available through the SEC website. 10.40% of the stock is owned by corporate insiders.
COPYRIGHT VIOLATION NOTICE: "AstroNova Inc (ALOT) Plans Quarterly Dividend of $0.07" was first published by Watch List News and is owned by of Watch List News. If you are accessing this piece of content on another website, it was copied illegally and reposted in violation of United States & international copyright & trademark law. The original version of this piece of content can be read at https://www.watchlistnews.com/astronova-inc-alot-plans-quarterly-dividend-of-0-07/2670128.html.
About AstroNova
AstroNova, Inc designs, develops, manufactures, and distributes specialty printers, and data acquisition and analysis systems in the United States, Canada, Asia, Europe, Central and South America, and internationally. The company operates through two segments, Product Identification and Test & Measurement (T&M).
Read More: Does the discount rate affect the economy?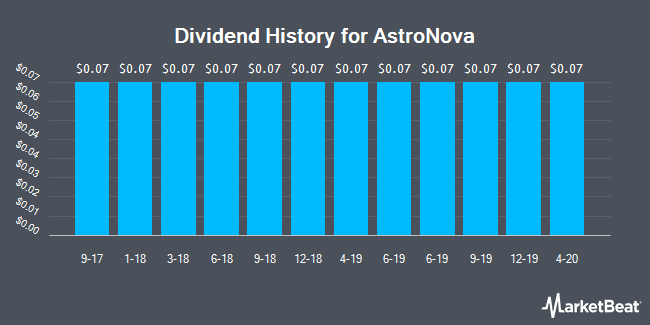 Receive News & Ratings for AstroNova Daily - Enter your email address below to receive a concise daily summary of the latest news and analysts' ratings for AstroNova and related companies with MarketBeat.com's FREE daily email newsletter.