Arrow Financial Corporation (AROW) To Go Ex-Dividend on August 30th
Arrow Financial Corporation (NASDAQ:AROW) declared a quarterly dividend on Wednesday, July 26th, Zacks reports. Stockholders of record on Friday, September 1st will be given a dividend of 0.25 per share by the financial services provider on Friday, September 15th. This represents a $1.00 dividend on an annualized basis and a dividend yield of 3.12%. The ex-dividend date of this dividend is Wednesday, August 30th.
Arrow Financial Corporation (NASDAQ:AROW) opened at 32.10 on Tuesday. The firm has a market cap of $433.64 million, a P/E ratio of 15.97 and a beta of 0.64. The stock has a 50 day moving average price of $32.01 and a 200-day moving average price of $33.22. Arrow Financial Corporation has a 1-year low of $30.56 and a 1-year high of $41.70.
Arrow Financial Corporation (NASDAQ:AROW) last released its earnings results on Thursday, July 20th. The financial services provider reported $0.53 EPS for the quarter, beating the Thomson Reuters' consensus estimate of $0.50 by $0.03. Arrow Financial Corporation had a net margin of 25.28% and a return on equity of 11.58%. The company had revenue of $26.28 million for the quarter. Equities research analysts forecast that Arrow Financial Corporation will post $2.15 EPS for the current year.
Separately, BidaskClub raised shares of Arrow Financial Corporation from a "sell" rating to a "hold" rating in a report on Monday, July 24th.
In related news, Chairman Thomas L. Hoy sold 1,000 shares of the stock in a transaction on Thursday, June 8th. The shares were sold at an average price of $32.75, for a total transaction of $32,750.00. Following the transaction, the chairman now owns 170,934 shares of the company's stock, valued at approximately $5,598,088.50. The transaction was disclosed in a legal filing with the SEC, which is available through the SEC website. 4.63% of the stock is currently owned by company insiders.
ILLEGAL ACTIVITY NOTICE: This story was first reported by Watch List News and is the sole property of of Watch List News. If you are reading this story on another site, it was copied illegally and reposted in violation of United States and international copyright & trademark law. The original version of this story can be viewed at https://www.watchlistnews.com/arrow-financial-corporation-arow-to-go-ex-dividend-on-august-30th/1529258.html.
Arrow Financial Corporation Company Profile
Arrow Financial Corporation (Arrow) is a bank holding company. The Company's banking subsidiaries are Glens Falls National Bank and Trust Company (Glens Falls National) and Saratoga National Bank and Trust Company (Saratoga National). It operates in community banking industry segment. The Company's business consists primarily of the ownership, supervision and control of its two banks.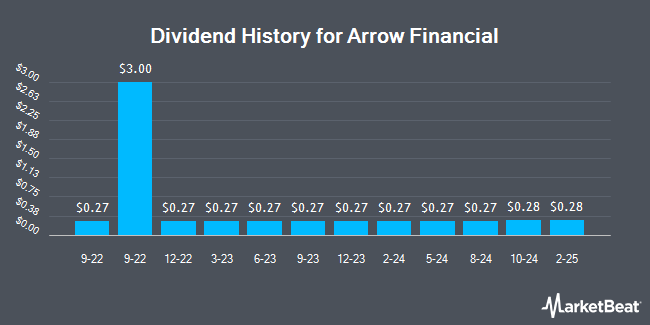 Receive News & Ratings for Arrow Financial Corporation Daily - Enter your email address below to receive a concise daily summary of the latest news and analysts' ratings for Arrow Financial Corporation and related companies with Analyst Ratings Network's FREE daily email newsletter.