Arnold P. Kling Acquires 18,557,805 Shares of Protalex Inc. (PRTX) Stock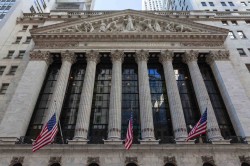 Protalex Inc. (OTCMKTS:PRTX) insider Arnold P. Kling purchased 18,557,805 shares of the business's stock in a transaction on Wednesday, February 28th. The shares were bought at an average price of $1.20 per share, for a total transaction of $22,269,366.00. The transaction was disclosed in a legal filing with the SEC, which is available through the SEC website.
Shares of Protalex Inc. (PRTX) traded up $0.10 during trading on Friday, reaching $0.55. 8,150 shares of the company's stock were exchanged, compared to its average volume of 241. Protalex Inc. has a twelve month low of $0.31 and a twelve month high of $3.00.
COPYRIGHT VIOLATION NOTICE: "Arnold P. Kling Acquires 18,557,805 Shares of Protalex Inc. (PRTX) Stock" was originally reported by Watch List News and is the property of of Watch List News. If you are accessing this piece on another website, it was illegally copied and republished in violation of international copyright & trademark laws. The original version of this piece can be accessed at https://www.watchlistnews.com/arnold-p-kling-acquires-18557805-shares-of-protalex-inc-prtx-stock/1905235.html.
About Protalex
Protalex, Inc is a clinical-stage company. The Company is focused on the development of a class of biopharmaceutical drugs for treating autoimmune and inflammatory diseases, including rheumatoid arthritis (RA) and Immune Thrombocytopenia (ITP). The Company's lead product candidate, PRTX-100, is a formulation of the Staphylococcal bacterial protein known as Protein A, which modifies aspects of the human immune system.
Receive News & Ratings for Protalex Daily - Enter your email address below to receive a concise daily summary of the latest news and analysts' ratings for Protalex and related companies with MarketBeat.com's FREE daily email newsletter.