Analysts Set Kinross Gold Co. (K) Price Target at $5.67
Kinross Gold Co. (TSE:K) (NYSE:KGC) has been assigned a consensus rating of "Buy" from the seven ratings firms that are presently covering the firm, Marketbeat reports. One equities research analyst has rated the stock with a sell rating, one has issued a hold rating and four have given a buy rating to the company. The average twelve-month price objective among brokers that have issued ratings on the stock in the last year is C$5.67.
Several research firms have issued reports on K. Barclays reaffirmed an "overweight" rating and issued a C$4.00 price target on shares of Kinross Gold in a report on Wednesday, October 10th. Canaccord Genuity cut their price target on shares of Kinross Gold from C$7.50 to C$6.50 in a report on Thursday, October 18th. Finally, Beacon Securities reaffirmed a "buy" rating on shares of Kinross Gold in a report on Monday, November 19th.
K stock traded up C$0.06 during trading on Monday, hitting C$3.78. 2,723,805 shares of the company's stock traded hands, compared to its average volume of 2,947,911. The company has a debt-to-equity ratio of 37.89, a current ratio of 3.07 and a quick ratio of 1.10. Kinross Gold has a 1 year low of C$3.15 and a 1 year high of C$5.90.
Kinross Gold (TSE:K) (NYSE:KGC) last issued its quarterly earnings data on Wednesday, November 7th. The company reported C($0.05) earnings per share (EPS) for the quarter, missing the Thomson Reuters' consensus estimate of C$0.01 by C($0.06). The company had revenue of C$985.28 million for the quarter, compared to the consensus estimate of C$985.28 million. Sell-side analysts expect that Kinross Gold will post 0.119999992195122 EPS for the current year.
Kinross Gold Company Profile
Kinross Gold Corporation, together with its subsidiaries, engages in the acquisition, exploration, extraction, and processing of gold-containing ore. It also engages in the reclamation of gold mining properties; and production and sale of silver. The company's gold production and exploration activities are carried out principally in Canada, the United States, Russia, Brazil, Chile, Ghana, and Mauritania.
Read More: How to calculate the annual rate of depreciation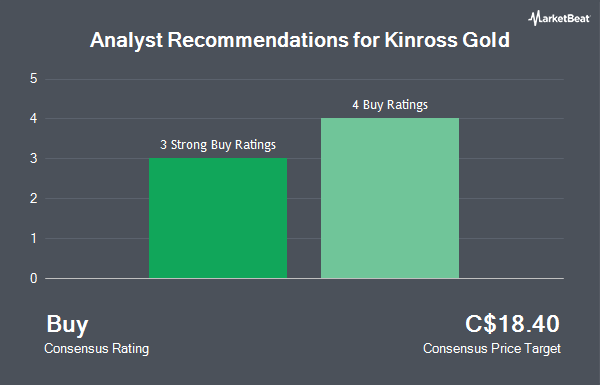 Receive News & Ratings for Kinross Gold Daily - Enter your email address below to receive a concise daily summary of the latest news and analysts' ratings for Kinross Gold and related companies with MarketBeat.com's FREE daily email newsletter.