Analysts Set easyJet plc (EZJ) Price Target at $1,769.15
Shares of easyJet plc (LON:EZJ) have been given a consensus recommendation of "Hold" by the twenty-nine ratings firms that are covering the firm, Marketbeat reports. One investment analyst has rated the stock with a sell recommendation, fourteen have assigned a hold recommendation and fourteen have issued a buy recommendation on the company. The average 1-year price target among analysts that have issued ratings on the stock in the last year is GBX 1,769.15 ($23.04).
EZJ has been the subject of a number of recent analyst reports. Societe Generale reiterated a "hold" rating on shares of easyJet in a report on Thursday, June 14th. Deutsche Bank set a GBX 1,915 ($24.94) target price on easyJet and gave the company a "neutral" rating in a research note on Monday, June 4th. HSBC reissued a "buy" rating and issued a GBX 2,000 ($26.05) target price on shares of easyJet in a research note on Monday, July 2nd. Liberum Capital reissued a "hold" rating and issued a GBX 1,800 ($23.45) target price on shares of easyJet in a research note on Monday, August 6th. Finally, UBS Group reissued a "neutral" rating on shares of easyJet in a research note on Wednesday, August 15th.
In other easyJet news, insider Kyla Mullins sold 1,629 shares of the company's stock in a transaction that occurred on Thursday, August 16th. The stock was sold at an average price of GBX 1,573 ($20.49), for a total value of £25,624.17 ($33,377.84). Insiders acquired 29 shares of company stock worth $44,645 in the last 90 days.
EZJ stock
traded down GBX 7 ($0.09) during trading on Wednesday, hitting GBX 1,387.50 ($18.07). The company had a trading volume of 644,079 shares, compared to its average volume of 2,170,000. easyJet has a fifty-two week low of GBX 977.38 ($12.73) and a fifty-two week high of GBX 1,698.69 ($22.13).
About easyJet
easyJet plc, together with its subsidiaries, operates as an airline carrier primarily in Europe. As of September 30, 2017, it operated 862 routes and a fleet of 279 aircraft. The company also engages in the trading and leasing of aircrafts; and the provision of graphic design services. easyJet plc was founded in 1995 and is based in Luton, the United Kingdom.
See Also: Investing in Growth Stocks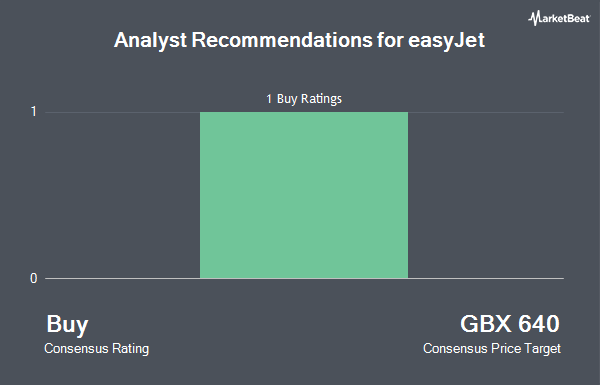 Receive News & Ratings for easyJet Daily - Enter your email address below to receive a concise daily summary of the latest news and analysts' ratings for easyJet and related companies with MarketBeat.com's FREE daily email newsletter.