Analysts Issue Forecasts for Theratechnologies Inc's Q3 2017 Earnings (TH)
Theratechnologies Inc (TSE:TH) – Analysts at National Bank Financial issued their Q3 2017 EPS estimates for Theratechnologies in a research note issued on Tuesday. National Bank Financial analyst E. Leno expects that the company will post earnings per share of ($0.02) for the quarter. National Bank Financial has a "Outperform" rating and a $9.75 price objective on the stock. National Bank Financial also issued estimates for Theratechnologies' FY2017 earnings at ($0.16) EPS.
ILLEGAL ACTIVITY WARNING: "Analysts Issue Forecasts for Theratechnologies Inc's Q3 2017 Earnings (TH)" was originally posted by Watch List News and is the sole property of of Watch List News. If you are reading this news story on another site, it was illegally copied and reposted in violation of United States and international copyright and trademark laws. The original version of this news story can be viewed at https://www.watchlistnews.com/analysts-issue-forecasts-for-theratechnologies-incs-q3-2017-earnings-th/1613985.html.
Separately, Scotiabank dropped their target price on shares of Theratechnologies from C$10.00 to C$9.25 and set an "outperform" rating on the stock in a report on Friday.
Shares of Theratechnologies (TSE:TH) opened at 7.86 on Friday. Theratechnologies has a 12 month low of $2.61 and a 12 month high of $8.72. The firm's market capitalization is $584.90 million. The stock has a 50 day moving average price of $7.55 and a 200 day moving average price of $7.18.
Theratechnologies Company Profile
Theratechnologies Inc is a specialty pharmaceutical company. The Company addresses medical needs to promote healthy living among human immunodeficiency virus (HIV) patients. Its products include EGRIFTA and Ibalizumab. EGRIFTA (tesamorelin for injection) refers to tesamorelin and it is indicated for the reduction of excess abdominal fat in HIV infected patients with lipodystrophy.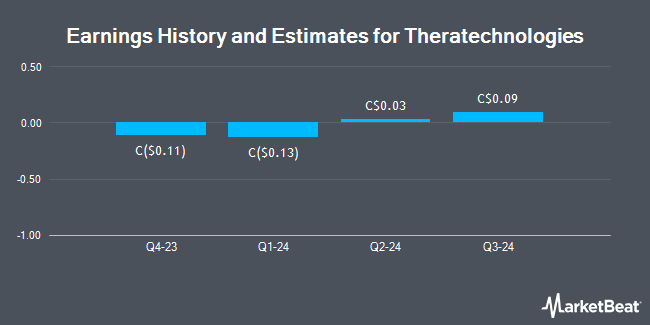 Receive News & Ratings for Theratechnologies Inc Daily - Enter your email address below to receive a concise daily summary of the latest news and analysts' ratings for Theratechnologies Inc and related companies with Analyst Ratings Network's FREE daily email newsletter.