Analysts Issue Forecasts for Sandstorm Gold Ltd's FY2020 Earnings (SSL)
Sandstorm Gold Ltd (TSE:SSL) – Analysts at Cormark issued their FY2020 earnings estimates for shares of Sandstorm Gold in a note issued to investors on Monday, January 21st. Cormark analyst R. Gray anticipates that the company will post earnings per share of $0.21 for the year.
Sandstorm Gold (TSE:SSL) last posted its earnings results on Wednesday, November 14th. The company reported C$0.01 EPS for the quarter, missing the Zacks' consensus estimate of C$0.02 by C($0.01). The business had revenue of C$22.60 million during the quarter, compared to analyst estimates of C$24.70 million.
Other analysts have also issued research reports about the company. Canaccord Genuity cut their price objective on Sandstorm Gold from C$9.75 to C$9.00 in a report on Thursday, October 18th. CIBC lifted their price objective on Sandstorm Gold from C$6.25 to C$7.00 in a report on Monday. Finally, TD Securities cut their price objective on Sandstorm Gold from C$8.50 to C$7.50 and set a "buy" rating for the company in a report on Thursday, November 15th.
Sandstorm Gold stock opened at C$6.07 on Wednesday. Sandstorm Gold has a 12 month low of C$4.60 and a 12 month high of C$6.95.
In related news, Director Andrew Swarthout sold 6,500 shares of Sandstorm Gold stock in a transaction on Tuesday, December 4th. The stock was sold at an average price of C$5.63, for a total value of C$36,595.00.
About Sandstorm Gold
Sandstorm Gold Ltd. operates as a gold streaming and royalty company. It has a portfolio of 174 streams and royalties in Canada, the United States, Australia, Honduras, Brazil, Peru, Chile, Argentina, Australia, Turkey, French Guiana, South Africa, Paraguay, Botswana, Sweden, Mongolia, Mexico, and Cote d'Ivoire.
Read More: How can you know how many shares are floating?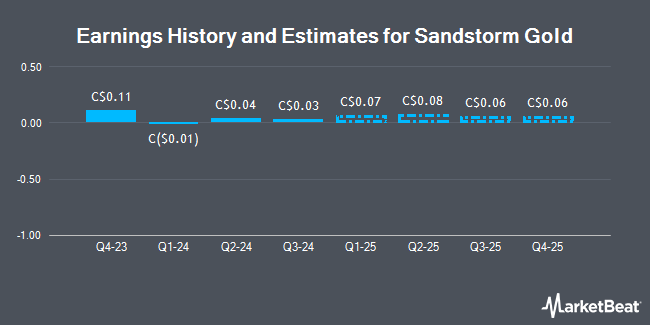 Receive News & Ratings for Sandstorm Gold Daily - Enter your email address below to receive a concise daily summary of the latest news and analysts' ratings for Sandstorm Gold and related companies with MarketBeat.com's FREE daily email newsletter.