AMP Capital Investors Ltd Has $6.80 Million Holdings in CGI (GIB)
AMP Capital Investors Ltd trimmed its stake in CGI (NYSE:GIB) (TSE:GIB.A) by 3.9% during the 2nd quarter, according to its most recent disclosure with the Securities and Exchange Commission. The institutional investor owned 107,334 shares of the technology company's stock after selling 4,342 shares during the quarter. AMP Capital Investors Ltd's holdings in CGI were worth $6,798,000 at the end of the most recent quarter.
Other institutional investors also recently added to or reduced their stakes in the company. Daiwa SB Investments Ltd. bought a new stake in CGI in the second quarter worth $206,000. Dean Capital Investments Management LLC bought a new stake in CGI in the second quarter worth $397,000. Raymond James Financial Services Advisors Inc. bought a new stake in CGI in the second quarter worth $449,000. Commerzbank Aktiengesellschaft FI boosted its holdings in CGI by 37.9% in the second quarter. Commerzbank Aktiengesellschaft FI now owns 11,421 shares of the technology company's stock worth $723,000 after acquiring an additional 3,140 shares in the last quarter. Finally, Assenagon Asset Management S.A. bought a new stake in CGI in the second quarter worth $815,000. 60.27% of the stock is currently owned by institutional investors and hedge funds.
Several equities research analysts have commented on GIB shares. Desjardins downgraded CGI from a "buy" rating to a "hold" rating in a report on Wednesday, July 25th. Zacks Investment Research downgraded CGI from a "hold" rating to a "sell" rating in a report on Wednesday, July 4th. Barclays upped their price target on CGI from $64.00 to $68.00 and gave the company an "overweight" rating in a report on Thursday, August 2nd. Finally, Scotiabank downgraded CGI from an "outperform" rating to a "sector perform" rating in a report on Tuesday, July 17th. Three analysts have rated the stock with a hold rating and three have issued a buy rating to the stock. The stock has a consensus rating of "Buy" and a consensus price target of $72.25.
Shares of
NYSE:GIB
opened at $65.52 on Friday. The firm has a market cap of $18.38 billion, a PE ratio of 23.57, a price-to-earnings-growth ratio of 2.25 and a beta of 0.55. The company has a debt-to-equity ratio of 0.24, a quick ratio of 0.68 and a current ratio of 0.99. CGI has a 1 year low of $50.73 and a 1 year high of $66.32.
CGI (NYSE:GIB) (TSE:GIB.A) last announced its quarterly earnings results on Wednesday, August 1st. The technology company reported $1.08 earnings per share (EPS) for the quarter, beating analysts' consensus estimates of $0.84 by $0.24. The firm had revenue of $2.94 billion for the quarter, compared to the consensus estimate of $2.98 billion. CGI had a return on equity of 18.06% and a net margin of 9.33%. The company's quarterly revenue was up 3.7% on a year-over-year basis. During the same period in the prior year, the company posted $0.93 earnings per share. research analysts predict that CGI will post 3.22 earnings per share for the current fiscal year.
CGI Profile
CGI Group Inc provides information technology and business process services in Canada and internationally. It offers application development and maintenance, portfolio management, quality assurance and testing, modernization, and migration services; agile, business transformation, change management, CIO advisory, cybersecurity, data analytics, digital enterprise, project management, and industry-specific business consulting services; business-to-business and customer operations support, purchase management, revenue management, and supplier payment services; and data center facilities and management, technical service desk, printing and document management, remote infrastructure, transformation, storage as a service, data vaulting, disaster recovery and archiving as a service, bottomless edge-to-core storage, and file sync and share as a service, as well as infrastructure solutions and consulting services.
Further Reading: How to Track your Portfolio in Google Finance
Want to see what other hedge funds are holding GIB? Visit HoldingsChannel.com to get the latest 13F filings and insider trades for CGI (NYSE:GIB) (TSE:GIB.A).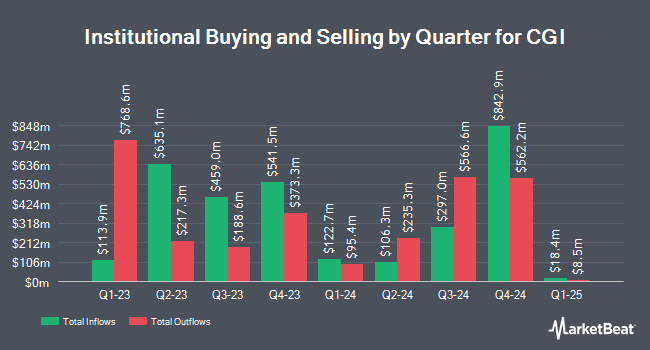 Receive News & Ratings for CGI Daily - Enter your email address below to receive a concise daily summary of the latest news and analysts' ratings for CGI and related companies with MarketBeat.com's FREE daily email newsletter.