Altus Group Ltd (AIF) To Go Ex-Dividend on September 27th
Altus Group Ltd (TSE:AIF) declared a quarterly dividend on Tuesday, September 18th, RTT News reports. Stockholders of record on Sunday, September 30th will be paid a dividend of 0.15 per share on Monday, October 15th. This represents a $0.60 dividend on an annualized basis and a dividend yield of 1.96%. The ex-dividend date of this dividend is Thursday, September 27th.
Shares of AIF stock traded up C$0.05 during trading hours on Wednesday, reaching C$30.63. 19,946 shares of the company's stock were exchanged, compared to its average volume of 86,661. Altus Group has a 1 year low of C$27.47 and a 1 year high of C$37.89.
Altus Group (TSE:AIF) last released its quarterly earnings data on Tuesday, August 7th. The company reported C$0.40 earnings per share for the quarter, beating the consensus estimate of C$0.35 by C$0.05. Altus Group had a negative return on equity of 3.34% and a negative net margin of 2.80%. The firm had revenue of C$134.22 million during the quarter, compared to the consensus estimate of C$133.40 million.
Separately, Royal Bank of Canada lowered their target price on Altus Group from C$40.00 to C$38.00 and set an "outperform" rating on the stock in a report on Tuesday, July 31st.
Altus Group Company Profile
Altus Group Limited provides independent advisory services, software, and data solutions to the commercial real estate (CRE) industry. The company operates through Altus Analytics, CRE Consulting, and Geomatics segments. The Altus Analytics segment offers data, analytics software, and technology-related services, such as ARGUS Enterprise (AE), a software for valuation, and portfolio management; ARGUS Developer, a software for feasibility analysis and assessments; ARGUS EstateMaster, a software for development feasibility analysis; ARGUS on Demand, a hosted version of AE and ARGUS Developer; and Voyanta, a cloud-based data management solution.
Further Reading: Book Value Per Share – BVPS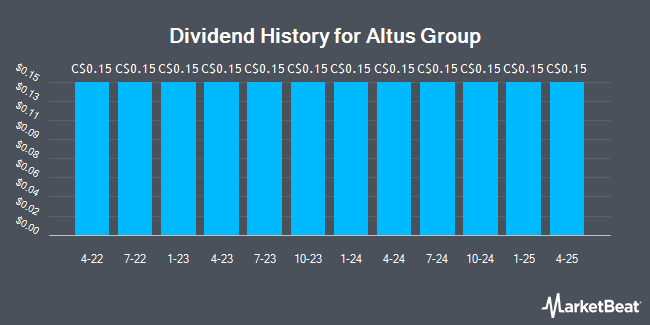 Receive News & Ratings for Altus Group Daily - Enter your email address below to receive a concise daily summary of the latest news and analysts' ratings for Altus Group and related companies with MarketBeat.com's FREE daily email newsletter.