Allergan (AGN) Updates FY18 Earnings Guidance
Allergan (NYSE:AGN) updated its FY18 earnings guidance on Monday. The company provided earnings per share guidance of ≥$15.25 for the period, compared to the Thomson Reuters consensus earnings per share estimate of $15.85. The company issued revenue guidance of ~$15.0-15.3 billion, compared to the consensus revenue estimate of $15.65 billion.
A number of equities analysts recently issued reports on the stock. Citigroup decreased their price target on shares of Allergan to $215.00 and set a buy rating for the company in a research note on Tuesday. Wells Fargo & Co set a $245.00 price target on shares of Allergan and gave the stock a buy rating in a research note on Friday. Royal Bank of Canada set a $218.00 price target on shares of Allergan and gave the stock a buy rating in a research note on Thursday, January 4th. Zacks Investment Research downgraded shares of Allergan from a hold rating to a sell rating in a research note on Tuesday, January 2nd. Finally, ValuEngine downgraded shares of Allergan from a buy rating to a hold rating in a research note on Sunday, December 31st. Two research analysts have rated the stock with a sell rating, eight have given a hold rating and twelve have issued a buy rating to the company. Allergan presently has an average rating of Hold and a consensus price target of $229.60.
Shares of Allergan (AGN) opened at $170.56 on Tuesday. The firm has a market cap of $57,300.00, a PE ratio of -7.55, a price-to-earnings-growth ratio of 1.18 and a beta of 1.11. The company has a quick ratio of 1.08, a current ratio of 1.18 and a debt-to-equity ratio of 0.40. Allergan has a fifty-two week low of $160.07 and a fifty-two week high of $256.80.
Allergan (NYSE:AGN) last announced its quarterly earnings data on Wednesday, November 1st. The company reported $4.15 earnings per share for the quarter, topping the Zacks' consensus estimate of $4.06 by $0.09. The business had revenue of $4.03 billion for the quarter, compared to analysts' expectations of $4.04 billion. Allergan had a negative net margin of 47.27% and a positive return on equity of 8.00%. The business's revenue was up 11.4% compared to the same quarter last year. During the same quarter in the prior year, the company earned $3.32 earnings per share. equities analysts expect that Allergan will post 16.27 EPS for the current year.
The company also recently declared a quarterly dividend, which was paid on Friday, December 15th. Stockholders of record on Friday, November 17th were issued a dividend of $0.70 per share. This represents a $2.80 dividend on an annualized basis and a dividend yield of 1.64%. The ex-dividend date was Thursday, November 16th. Allergan's payout ratio is -12.39%.
Allergan announced that its board has approved a share buyback plan on Monday, September 25th that permits the company to buyback $2.00 billion in outstanding shares. This buyback authorization permits the company to reacquire up to 2.8% of its stock through open market purchases. Stock buyback plans are typically an indication that the company's leadership believes its stock is undervalued.
In other news, insider William Meury sold 11,807 shares of the stock in a transaction that occurred on Friday, December 1st. The shares were sold at an average price of $173.89, for a total transaction of $2,053,119.23. The transaction was disclosed in a legal filing with the SEC, which is accessible through this hyperlink. Also, Director Chris W. Bodine purchased 3,030 shares of the business's stock in a transaction dated Thursday, December 7th. The shares were purchased at an average price of $164.77 per share, for a total transaction of $499,253.10. The disclosure for this purchase can be found here. In the last quarter, insiders have bought 17,630 shares of company stock worth $2,890,057. Corporate insiders own 0.36% of the company's stock.
COPYRIGHT VIOLATION WARNING: This piece of content was originally posted by Watch List News and is the property of of Watch List News. If you are viewing this piece of content on another website, it was stolen and republished in violation of international copyright and trademark laws. The correct version of this piece of content can be read at https://www.watchlistnews.com/allergan-agn-updates-fy18-earnings-guidance/1799688.html.
About Allergan
Allergan, Inc is a multi-specialty healthcare company. The Company focuses on developing and commercializing pharmaceuticals, biologics, medical devices and over-the-counter (OTC) products. It discovers, develops and commercializes a range of products for the ophthalmic, neurological, medical aesthetics, medical dermatology, breast aesthetics, urological and other specialty markets.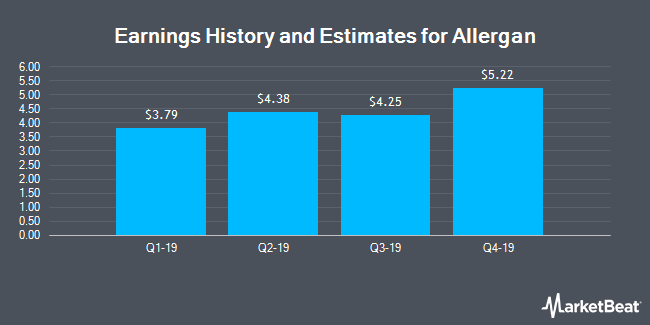 Receive News & Ratings for Allergan Daily - Enter your email address below to receive a concise daily summary of the latest news and analysts' ratings for Allergan and related companies with Analyst Ratings Network's FREE daily email newsletter.