Alamos Gold Inc Announces Semi-Annual Dividend of $0.01 (AGI)
Alamos Gold Inc (TSE:AGI) (NYSE:AGI) announced a Semi-Annual dividend on Friday, September 29th, Zacks reports. Shareholders of record on Monday, October 16th will be given a dividend of 0.01 per share on Tuesday, October 31st. This represents a dividend yield of 0.12%. The ex-dividend date of this dividend is Friday, October 13th.
Shares of Alamos Gold (TSE:AGI) opened at 8.86 on Friday. The firm's 50 day moving average is $9.28 and its 200-day moving average is $9.46. Alamos Gold has a 1-year low of $7.86 and a 1-year high of $11.86. The company's market cap is $2.66 billion.
AGI has been the topic of a number of research analyst reports. National Bank Financial reissued an "outperform market weight" rating on shares of Alamos Gold in a report on Sunday, July 23rd. TD Securities increased their price target on shares of Alamos Gold from C$12.50 to C$13.50 and gave the stock a "buy" rating in a report on Friday, August 4th. Finally, Raymond James Financial, Inc. increased their price target on shares of Alamos Gold from C$12.00 to C$12.50 and gave the stock an "outperform" rating in a report on Thursday, September 14th. Two equities research analysts have rated the stock with a hold rating and four have given a buy rating to the company's stock. Alamos Gold currently has a consensus rating of "Buy" and an average target price of C$13.03.
In related news, insider Colin Webster sold 15,000 shares of the stock in a transaction on Thursday, August 10th. The shares were sold at an average price of C$10.02, for a total transaction of C$150,300.00. Also, insider James Porter bought 10,000 shares of Alamos Gold stock in a transaction that occurred on Wednesday, September 13th. The shares were acquired at an average cost of C$8.91 per share, for a total transaction of C$89,100.00.
ILLEGAL ACTIVITY NOTICE: This story was first reported by Watch List News and is the sole property of of Watch List News. If you are reading this story on another site, it was copied illegally and reposted in violation of United States and international copyright & trademark law. The original version of this story can be viewed at https://www.watchlistnews.com/alamos-gold-inc-announces-semi-annual-dividend-of-0-01-agi/1617257.html.
About Alamos Gold
Alamos Gold Inc is a Canada-based company, which is engaged in the acquisition, exploration, development and extraction of precious metals. The Company's segments include Young-Davidson, Mulatos, El Chanate and Corporate/other. Its Corporate and other segment consists of exploration and development projects.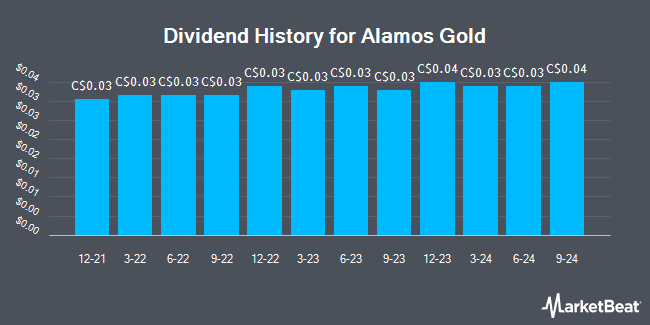 Receive News & Ratings for Alamos Gold Inc Daily - Enter your email address below to receive a concise daily summary of the latest news and analysts' ratings for Alamos Gold Inc and related companies with Analyst Ratings Network's FREE daily email newsletter.