Akero Therapeutics (AKRO) Plans to Raise $75 Million in June 20th IPO
June 12th, 2019 -
Comments Off

on Akero Therapeutics (AKRO) Plans to Raise $75 Million in June 20th IPO
-
Filed Under
- by
Lindsey Winhoffer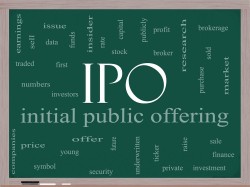 Akero Therapeutics (AKRO) plans to raise $75 million in an initial public offering (IPO) on Thursday, June 20th, IPO Scoop reports. The company will be issuing 5,000,000 shares at a price of $14.00-$16.00 per share.
Akero Therapeutics has a market-cap of $394.4 million.
J.P. Morgan, Jefferies and Evercore ISI acted as the underwriters for the IPO and Roth Capital Partners was co-manager.
Akero Therapeutics provided the following description of their company for its IPO: " We are a clinical-stage biotechnology company focused on developing and commercializing transformative treatments for serious metabolic diseases with high unmet medical need. Our initial focus is on nonalcoholic steatohepatitis, or NASH, a disease without any approved therapies. NASH is a severe form of nonalcoholic fatty liver disease, or NAFLD, characterized by inflammation and fibrosis in the liver that can progress to cirrhosis, liver failure, cancer and death. NASH is a leading cause for liver transplantation. ".
Akero Therapeutics was founded in 2017 and has 8 employees. The company is located at 170 Harbor Way, 3rd Floor, South San Francisco, CA 94080, US and can be reached via phone at (650)-487-6488 or on the web at http://www.akerotx.com.
Receive News & Ratings for Akero Therapeutics Daily - Enter your email address below to receive a concise daily summary of the latest news and analysts' ratings for Akero Therapeutics and related companies with MarketBeat.com's FREE daily email newsletter.