Aircastle Limited (AYR) Announces $0.28 Quarterly Dividend
Aircastle Limited (NYSE:AYR) announced a quarterly dividend on Friday, August 3rd, NASDAQ reports. Investors of record on Friday, August 31st will be given a dividend of 0.28 per share by the transportation company on Friday, September 14th. This represents a $1.12 annualized dividend and a yield of 5.30%. The ex-dividend date is Thursday, August 30th.
Aircastle has raised its dividend payment by an average of 8.9% annually over the last three years and has increased its dividend every year for the last 7 years. Aircastle has a dividend payout ratio of 52.3% meaning its dividend is sufficiently covered by earnings. Equities analysts expect Aircastle to earn $2.35 per share next year, which means the company should continue to be able to cover its $1.12 annual dividend with an expected future payout ratio of 47.7%.
AYR traded up $0.09 on Friday, hitting $21.14. 182,821 shares of the company were exchanged, compared to its average volume of 307,246. Aircastle has a 12 month low of $18.97 and a 12 month high of $25.30. The firm has a market capitalization of $1.67 billion, a PE ratio of 11.30, a PEG ratio of 1.00 and a beta of 1.82.
Aircastle (NYSE:AYR) last released its earnings results on Tuesday, August 7th. The transportation company reported $0.67 earnings per share (EPS) for the quarter, topping the consensus estimate of $0.53 by $0.14. Aircastle had a return on equity of 11.70% and a net margin of 28.40%. The business had revenue of $204.28 million for the quarter, compared to analyst estimates of $194.60 million. equities research analysts anticipate that Aircastle will post 2.14 earnings per share for the current year.
Several analysts recently issued reports on AYR shares. Zacks Investment Research upgraded Aircastle from a "hold" rating to a "buy" rating and set a $24.00 target price on the stock in a report on Monday, May 7th. Deutsche Bank upped their target price on Aircastle from $23.00 to $24.00 and gave the stock a "hold" rating in a report on Friday, May 4th. Finally, ValuEngine lowered Aircastle from a "hold" rating to a "sell" rating in a report on Friday, June 1st. One investment analyst has rated the stock with a sell rating, eight have given a hold rating and one has given a buy rating to the stock. Aircastle presently has a consensus rating of "Hold" and an average target price of $24.43.
Aircastle Company Profile
Aircastle Limited, through its subsidiaries, leases, finances, sells, and manages commercial flight equipment to airlines worldwide. The company also invests in other aviation assets. As of December 31, 2017, its aircraft portfolio comprised 236 aircraft leased to 81 lessees located in 43 countries. Aircastle Limited was founded in 2004 and is based in Stamford, Connecticut.
Read More: Marijuana Stocks Future Looks Bright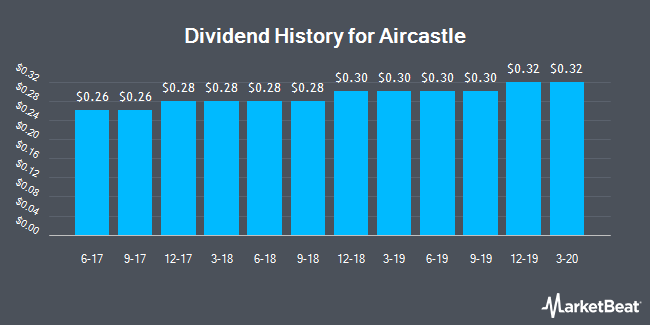 Receive News & Ratings for Aircastle Daily - Enter your email address below to receive a concise daily summary of the latest news and analysts' ratings for Aircastle and related companies with MarketBeat.com's FREE daily email newsletter.