Agnico Eagle Mines Ltd (AEM) Price Target Increased to C$76.00 by Analysts at Canaccord Genuity
Agnico Eagle Mines Ltd (TSE:AEM) (NYSE:AEM) had its price target lifted by Canaccord Genuity from C$73.00 to C$76.00 in a research note issued to investors on Friday.
A number of other research analysts have also commented on AEM. TD Securities increased their price objective on Agnico Eagle Mines to C$65.00 and gave the company a hold rating in a report on Thursday, August 3rd. National Bank Financial raised Agnico Eagle Mines from a sector perform rating to an outperform rating in a report on Sunday, July 23rd. Finally, Royal Bank Of Canada reaffirmed a sector perform rating on shares of Agnico Eagle Mines in a report on Monday, September 11th. Three analysts have rated the stock with a hold rating and four have issued a buy rating to the stock. Agnico Eagle Mines presently has a consensus rating of Buy and a consensus price target of C$66.50.
Shares of Agnico Eagle Mines (TSE AEM) traded down 0.58% during trading on Friday, hitting $56.39. The company's stock had a trading volume of 487,063 shares. The firm's 50 day moving average is $59.73 and its 200-day moving average is $60.46. The company has a market capitalization of $13.04 billion and a P/E ratio of 51.83. Agnico Eagle Mines has a 1-year low of $46.91 and a 1-year high of $74.14.
WARNING: This article was originally posted by Watch List News and is the sole property of of Watch List News. If you are accessing this article on another publication, it was copied illegally and reposted in violation of US and international copyright & trademark laws. The correct version of this article can be viewed at https://www.watchlistnews.com/agnico-eagle-mines-ltd-aem-price-target-increased-to-c76-00-by-analysts-at-canaccord-genuity/1599359.html.
The firm also recently announced a quarterly dividend, which was paid on Friday, September 15th. Shareholders of record on Friday, September 1st were issued a $0.10 dividend. This represents a $0.40 dividend on an annualized basis and a yield of 0.71%. The ex-dividend date of this dividend was Wednesday, August 30th.
In other Agnico Eagle Mines news, insider Yvon Sylvestre sold 610 shares of the firm's stock in a transaction that occurred on Tuesday, August 29th. The stock was sold at an average price of C$63.50, for a total value of C$38,735.00. Also, Director Deborah Mccombe bought 500 shares of the stock in a transaction on Tuesday, September 19th. The stock was acquired at an average cost of C$58.24 per share, for a total transaction of C$29,120.00.
Agnico Eagle Mines Company Profile
Agnico Eagle Mines Limited is a gold producer with mining operations in northwestern Quebec, northern Mexico, northern Finland and Nunavut and exploration activities in Canada, Europe, Latin America and the United States. The Company operates through three business units. The Northern Business consists of its operations in Canada and Finland.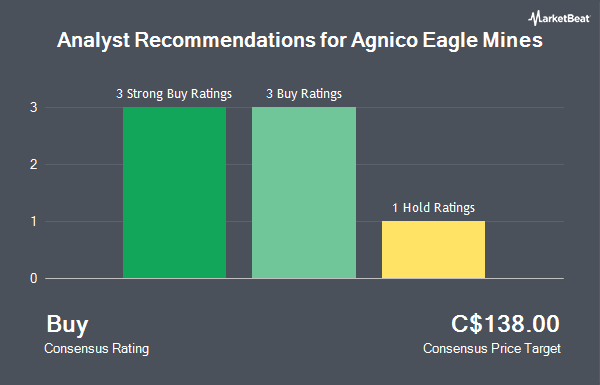 Receive News & Ratings for Agnico Eagle Mines Ltd Daily - Enter your email address below to receive a concise daily summary of the latest news and analysts' ratings for Agnico Eagle Mines Ltd and related companies with Analyst Ratings Network's FREE daily email newsletter.