ABM Industries (ABM) Updates FY18 Earnings Guidance
ABM Industries (NYSE:ABM) updated its FY18 earnings guidance on Wednesday. The company provided earnings per share guidance of $1.70-1.80 for the period, compared to the Thomson Reuters consensus earnings per share estimate of $2.04.
A number of brokerages have recently issued reports on ABM. Robert W. Baird set a $47.00 price objective on shares of ABM Industries and gave the company a buy rating in a research report on Thursday, August 24th. BidaskClub raised shares of ABM Industries from a buy rating to a strong-buy rating in a research report on Saturday, August 26th. KeyCorp raised shares of ABM Industries from a sector weight rating to an overweight rating and set a $48.00 price objective for the company in a research report on Monday, September 11th. Finally, Zacks Investment Research raised shares of ABM Industries from a strong sell rating to a hold rating in a research report on Tuesday, November 7th. One analyst has rated the stock with a hold rating, three have assigned a buy rating and one has assigned a strong buy rating to the stock. ABM Industries has an average rating of Buy and an average price target of $48.20.
ABM Industries (NYSE:ABM) opened at $38.18 on Friday. The firm has a market cap of $2,849.70, a price-to-earnings ratio of 25.00 and a beta of 0.80. The company has a quick ratio of 1.52, a current ratio of 1.52 and a debt-to-equity ratio of 0.27. ABM Industries has a 1-year low of $36.61 and a 1-year high of $45.12.
ABM Industries (NYSE:ABM) last issued its earnings results on Wednesday, December 13th. The business services provider reported $0.37 earnings per share for the quarter, missing the consensus estimate of $0.49 by ($0.12). The firm had revenue of $1.50 billion during the quarter, compared to the consensus estimate of $1.49 billion. ABM Industries had a return on equity of 10.88% and a net margin of 0.07%. The company's quarterly revenue was up 13.3% on a year-over-year basis. During the same period in the prior year, the company posted $0.51 EPS. analysts expect that ABM Industries will post 1.92 earnings per share for the current fiscal year.
The company also recently announced a quarterly dividend, which will be paid on Monday, February 5th. Investors of record on Thursday, January 4th will be issued a $0.175 dividend. The ex-dividend date is Wednesday, January 3rd. This represents a $0.70 annualized dividend and a yield of 1.83%. This is an increase from ABM Industries's previous quarterly dividend of $0.17. ABM Industries's dividend payout ratio is currently 971.57%.
In related news, SVP Dean A. Chin sold 880 shares of the company's stock in a transaction on Wednesday, October 4th. The shares were sold at an average price of $42.90, for a total value of $37,752.00. The sale was disclosed in a filing with the Securities & Exchange Commission, which is available at this link. Corporate insiders own 1.30% of the company's stock.
ILLEGAL ACTIVITY WARNING: This report was published by Watch List News and is owned by of Watch List News. If you are reading this report on another publication, it was illegally copied and republished in violation of United States and international trademark & copyright legislation. The legal version of this report can be viewed at https://www.watchlistnews.com/abm-industries-abm-updates-fy18-earnings-guidance/1765214.html.
About ABM Industries
ABM Industries Incorporated is a provider of integrated facility solutions. The Company operates through five segments: Janitorial, Facility Services, Parking, Building & Energy Solutions, and other. Its Janitorial segment provides a range of cleaning services for commercial office buildings, data centers, educational institutions, government buildings, health facilities, industrial buildings, retail stores, sport event facilities and transportation hubs.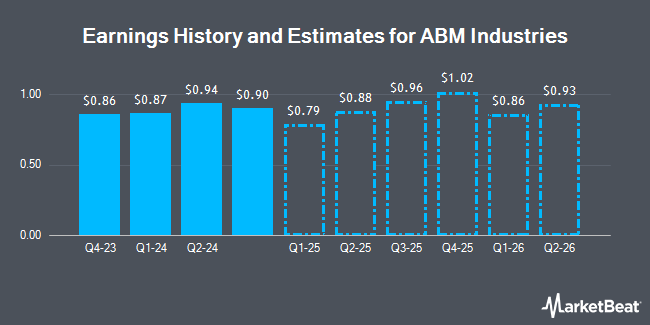 Receive News & Ratings for ABM Industries Daily - Enter your email address below to receive a concise daily summary of the latest news and analysts' ratings for ABM Industries and related companies with MarketBeat.com's FREE daily email newsletter.