ABM Industries (ABM) Issues FY18 Earnings Guidance
ABM Industries (NYSE:ABM) updated its FY18 earnings guidance on Thursday. The company provided EPS guidance of $1.85-1.95 for the period, compared to the Thomson Reuters consensus EPS estimate of $1.84.
Several research firms recently weighed in on ABM. ValuEngine upgraded shares of ABM Industries from a strong sell rating to a sell rating in a report on Saturday, July 28th. Robert W. Baird cut shares of ABM Industries from an outperform rating to a neutral rating and lifted their price target for the company from $36.00 to $40.00 in a report on Thursday, August 23rd. They noted that the move was a valuation call. Finally, Zacks Investment Research cut shares of ABM Industries from a hold rating to a sell rating in a report on Friday, August 24th. Two investment analysts have rated the stock with a sell rating, one has issued a hold rating and one has given a buy rating to the company's stock. The company has a consensus rating of Hold and an average price target of $42.67.
Shares of ABM Industries stock opened at $33.75 on Friday. The company has a quick ratio of 1.73, a current ratio of 1.73 and a debt-to-equity ratio of 0.76. The firm has a market cap of $2.07 billion, a price-to-earnings ratio of 19.29 and a beta of 0.77. ABM Industries has a 12 month low of $28.17 and a 12 month high of $44.70.
ABM Industries (NYSE:ABM) last announced its quarterly earnings data on Thursday, September 6th. The business services provider reported $0.57 EPS for the quarter, beating the consensus estimate of $0.53 by $0.04. The business had revenue of $1.62 billion during the quarter, compared to analyst estimates of $1.65 billion. ABM Industries had a return on equity of 7.81% and a net margin of 1.34%. The company's revenue for the quarter was up 23.2% on a year-over-year basis. During the same quarter last year, the firm posted $0.51 earnings per share. sell-side analysts anticipate that ABM Industries will post 1.84 EPS for the current year.
The company also recently disclosed a quarterly dividend, which will be paid on Monday, November 5th. Shareholders of record on Thursday, October 4th will be given a dividend of $0.175 per share. This represents a $0.70 annualized dividend and a yield of 2.07%. ABM Industries's dividend payout ratio is currently 40.00%.
In other ABM Industries news, COO Scott J. Giacobbe sold 3,342 shares of the firm's stock in a transaction on Thursday, June 14th. The stock was sold at an average price of $30.90, for a total transaction of $103,267.80. Following the completion of the transaction, the chief operating officer now owns 62,186 shares of the company's stock, valued at $1,921,547.40. The sale was disclosed in a legal filing with the Securities & Exchange Commission, which is accessible through this link. Company insiders own 1.30% of the company's stock.
About ABM Industries
ABM Industries Incorporated provides integrated facility solutions in the United States and internationally. The company operates through five segments: Business & Industry, Aviation, Emerging Industries Group, Technical Solutions, and GCA Services. It offers janitorial, facilities engineering, parking, passenger assistance, catering, air cabin maintenance, transportation, and specialized mechanical and electrical services.
See Also: What do investors mean by earnings per share?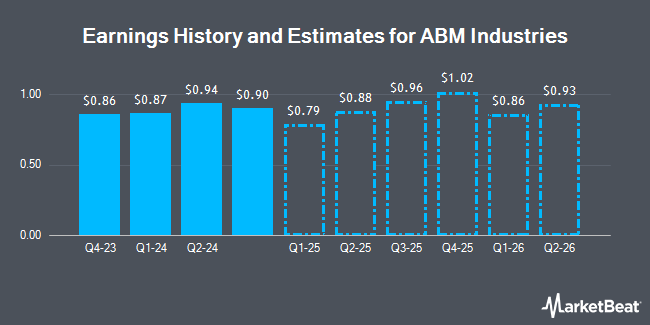 Receive News & Ratings for ABM Industries Daily - Enter your email address below to receive a concise daily summary of the latest news and analysts' ratings for ABM Industries and related companies with MarketBeat.com's FREE daily email newsletter.