Vivendi SA (VIVHY) Receives "Buy" Rating from JPMorgan Chase & Co.
Vivendi SA (OTCMKTS:VIVHY)'s stock had its "buy" rating restated by JPMorgan Chase & Co. in a research report issued on Thursday.
Separately, Goldman Sachs Group Inc. restated a "buy" rating on shares of Vivendi SA in a research note on Wednesday. One analyst has rated the stock with a sell rating, two have issued a hold rating and seven have issued a buy rating to the company's stock. The company currently has a consensus rating of "Buy" and a consensus price target of $24.00.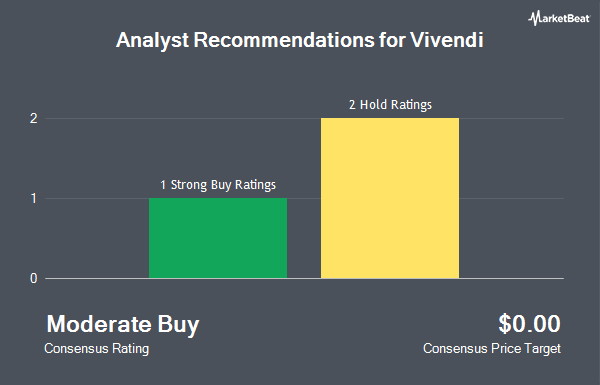 Vivendi SA (OTCMKTS:VIVHY) opened at 19.59 on Thursday. Vivendi SA has a one year low of $16.70 and a one year high of $25.36. The firm has a market cap of $24.64 billion, a price-to-earnings ratio of 27.17 and a beta of 0.79. The firm has a 50-day moving average of $19.68 and a 200-day moving average of $19.63.
Vivendi SA Company Profile
Vivendi SA is engaged in the content and media businesses. The Company operates through three subsidiaries: Canal+ Group, Universal Music Group and Vivendi Village. Canal+ Group is an audiovisual group engaged in publishing and distribution of premium and thematic pay-television channels as well as free-to-air channels in France, Poland, Africa and Vietnam as well as production and distribution of cinema film and television series in Europe.
Receive News & Ratings for Vivendi SA Daily - Enter your email address below to receive a concise daily summary of the latest news and analysts' ratings for Vivendi SA and related companies with Analyst Ratings Network's FREE daily email newsletter.