TD Securities Raises Agrium Inc. (AGU) Price Target to C$102.00
Agrium Inc. (TSE:AGU) (NYSE:AGU) had its price objective hoisted by TD Securities from C$99.00 to C$102.00 in a research report released on Monday. TD Securities currently has a hold rating on the stock.
AGU has been the topic of a number of other reports. Raymond James Financial, Inc. boosted their price objective on shares of Agrium from C$96.00 to C$110.00 and gave the company a market perform rating in a research report on Monday. Cowen and Company reduced their price objective on shares of Agrium from C$109.00 to C$93.00 and set an outperform rating on the stock in a research report on Tuesday, January 24th. Scotiabank reissued an outperform rating and set a C$110.00 price objective on shares of Agrium in a research report on Friday, February 10th. Finally, AltaCorp Capital downgraded shares of Agrium from an outperform rating to a sector perform rating in a research report on Monday, December 12th. Three research analysts have rated the stock with a hold rating and three have given a buy rating to the company. The company currently has a consensus rating of Buy and an average target price of C$110.00.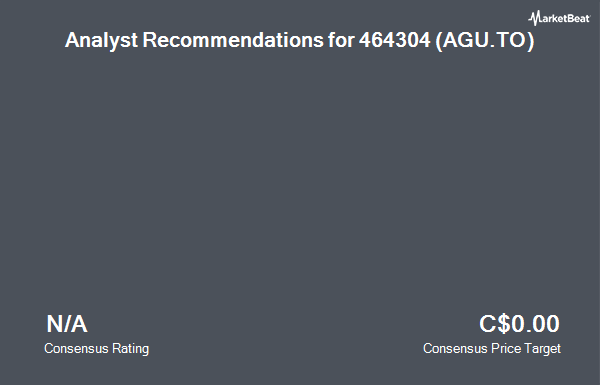 Shares of Agrium (TSE:AGU) opened at 136.06 on Monday. The company's 50-day moving average is $137.10 and its 200-day moving average is $127.98. The stock has a market cap of $18.80 billion and a P/E ratio of 31.72. Agrium has a 12-month low of $104.70 and a 12-month high of $146.99.
This article was posted by Watch List News and is owned by of Watch List News. If you are viewing this article on another website, it was stolen and republished in violation of United States & international trademark & copyright laws. The original version of this article can be viewed at http://www.watchlistnews.com/td-securities-raises-agrium-inc-agu-price-target-to-c102-00/1121426.html.
About Agrium
Agrium Inc is a producer and distributor of agricultural products and services. The Company categorizes its segments within the Retail and Wholesale business units. The Retail business unit distributes crop nutrients, crop protection products, seed, merchandise and services directly to growers through a network of farm centers in two geographical segments: North America, which includes the United States and Canada, and International, which includes Australia and South America.
Receive News & Ratings for Agrium Inc. Daily - Enter your email address below to receive a concise daily summary of the latest news and analysts' ratings for Agrium Inc. and related companies with Analyst Ratings Network's FREE daily email newsletter.