CryoLife, Inc. (CRY) Issues Quarterly Earnings Results
CryoLife, Inc. (NYSE:CRY) announced its quarterly earnings results on Wednesday. The company reported $0.12 earnings per share (EPS) for the quarter, topping the Thomson Reuters' consensus estimate of $0.09 by $0.03. CryoLife had a return on equity of 8.37% and a net margin of 6.00%. The business earned $45 million during the quarter, compared to the consensus estimate of $46.92 million.
Shares of CryoLife (NYSE:CRY) opened at 16.10 on Friday. The company has a market cap of $528.85 million, a P/E ratio of 48.94 and a beta of 1.23. CryoLife has a one year low of $10.04 and a one year high of $20.15. The company's 50-day moving average price is $18.78 and its 200 day moving average price is $17.74.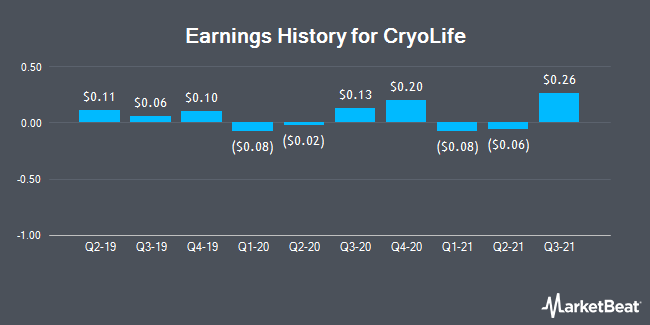 CRY has been the subject of several recent research reports. Canaccord Genuity reiterated a "buy" rating and set a $23.50 price target on shares of CryoLife in a report on Monday, January 23rd. Zacks Investment Research downgraded CryoLife from a "buy" rating to a "hold" rating in a report on Thursday, October 27th. Finally, Northland Securities initiated coverage on CryoLife in a report on Monday, January 9th. They set an "outperform" rating and a $23.50 price target for the company. Two research analysts have rated the stock with a hold rating and four have issued a buy rating to the company's stock. The stock currently has a consensus rating of "Buy" and a consensus target price of $18.33.
"CryoLife, Inc. (CRY) Issues Quarterly Earnings Results" was first reported by Watch List News and is owned by of Watch List News. If you are accessing this piece on another publication, it was illegally stolen and republished in violation of international trademark & copyright law. The original version of this piece can be accessed at http://www.watchlistnews.com/cryolife-inc-cry-issues-quarterly-earnings-results/1121617.html.
About CryoLife
CryoLife, Inc (CryoLife) is engaged in medical device manufacturing and distribution, and in the processing and distribution of implantable human tissues for cardiac and vascular surgeries. The Company operates in two segments: Medical Devices and Preservation Services. The Medical Devices segment sells BioGlue, BioFoam, PerClot, CardioGenesis cardiac laser therapy, Hemodialysis Reliable Outflow (HeRO) Graft, and ProCol Vascular Bioprosthesis (ProCol).
Receive News & Ratings for CryoLife Inc. Daily - Enter your email address below to receive a concise daily summary of the latest news and analysts' ratings for CryoLife Inc. and related companies with Analyst Ratings Network's FREE daily email newsletter.