Brown-Forman Co. (BF.B) Raised to "Hold" at Zacks Investment Research
Zacks Investment Research upgraded shares of Brown-Forman Co. (NYSE:BF.B) from a sell rating to a hold rating in a research note released on Monday morning.
According to Zacks, "Brown-Forman started fiscal 2017 on a soft note as earnings for first-quarter missed estimates and fell year over year. While top-line growth was hurt by the persistence of currency headwinds, tough economic conditions in emerging markets and the impact of the sale of Southern Comfort and Tuaca, underlying sales gained from the company's strong portfolio of premium American whiskey brands, along with its Jack Daniel's trademark. All these led to a downtrend in estimates. Though Brown-Forman anticipates the perils of currency headwinds and unstable emerging market conditions along with an uncertain global economic and geopolitical environment to linger, it remains confident of persistent growth in underlying net sales and operating income in fiscal 2017. The company expects to grow on the back of strong demand for its authentic American whiskey brands worldwide, consumer interest in flavored whiskey and a growing trend in premium spirits."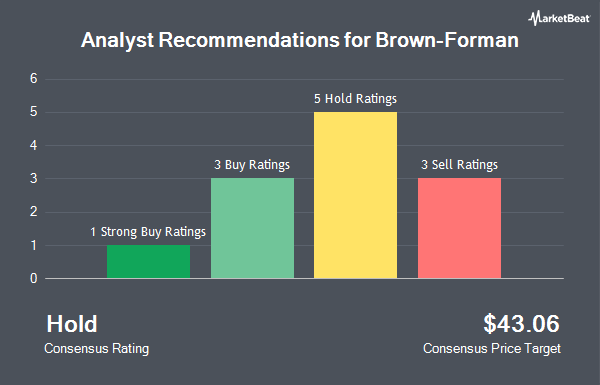 BF.B has been the topic of several other reports. Credit Suisse Group AG initiated coverage on shares of Brown-Forman in a research report on Thursday, September 15th. They issued an outperform rating on the stock. Bank of America Corp. cut shares of Brown-Forman from a neutral rating to an underperform rating in a research report on Wednesday, July 13th. Two equities research analysts have rated the stock with a sell rating, six have assigned a hold rating and one has given a buy rating to the company. The company presently has an average rating of Hold and a consensus target price of $104.00.
Brown-Forman (NYSE:BF.B) last posted its quarterly earnings data on Wednesday, August 31st. The company reported $0.36 earnings per share for the quarter, missing the Thomson Reuters' consensus estimate of $0.37 by $0.01. The company had revenue of $856 million for the quarter, compared to the consensus estimate of $875.50 million. The company's revenue was down 4.9% compared to the same quarter last year. During the same quarter last year, the business posted $0.75 EPS.
The business also recently disclosed a quarterly dividend, which will be paid on Monday, October 3rd. Stockholders of record on Thursday, September 1st will be paid a dividend of $0.17 per share. This represents a $0.68 dividend on an annualized basis and a dividend yield of Infinity. The ex-dividend date of this dividend is Tuesday, August 30th.
About Brown-Forman
Brown-Forman Corporation is a spirit and wine company. The Company manufactures, bottles, imports, exports, markets and sells a range of alcoholic beverages. The Company has a portfolio of approximately 40 spirit, wine and ready-to-drink cocktail (RTD) brands. Its principal brands include Jack Daniel's Tennessee Whiskey, Jack Daniel's RTDs, Jack Daniel's Tennessee Honey, Gentleman Jack Rare Tennessee Whiskey, Jack Daniel's Tennessee Fire, Jack Daniel's Single Barrel Collection, Jack Daniel's Sinatra Select, Jack Daniel's Winter Jack, Jack Daniel's No.
Get a free copy of the Zacks research report on Brown-Forman (BF.B)
For more information about research offerings from Zacks Investment Research, visit Zacks.com
Receive News & Ratings for Brown-Forman Co. Daily - Enter your email address below to receive a concise daily summary of the latest news and analysts' ratings for Brown-Forman Co. and related companies with Analyst Ratings Network's FREE daily email newsletter.